News story
Environment Secretary visits Cumbria and Lancashire
Elizabeth Truss meets people affected by the floods last weekend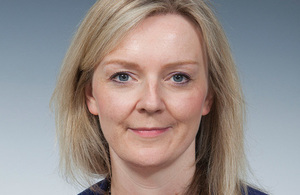 Environment Secretary Elizabeth Truss said:
Today I have visited some of those affected by the devastating floods last weekend in Cumbria and Lancashire. I saw first-hand the important work of local heroes and those from all over the country who have come here to help so that families can return to their homes.

Engineers have managed to restore power to yet more homes and I have thanked them and all involved for their tireless efforts to help the victims of these floods. Their determination and commitment are paying off.

The hard work of Network Rail engineers means the West Coast main line has now reopened and trains are again running between London and Scotland. In addition, electricity has been restored to nearly all customers – including Cumbria Infirmary - and the power companies are doing everything to restore electricity to the final 1,500 customers as soon as they can.

Another COBR meeting was held today to co-ordinate the continuing Government response to the floods and as promised in Parliament yesterday, we have now opened the Bellwin scheme for local authorities affected by floods with 100% of eligible costs to be met by the Government. All the relevant Government departments are now working together to provide whatever support is needed in Lancashire and Cumbria.

I would again ask that everyone monitors the Environment Agency website and Twitter for the latest information.
Published 8 December 2015