Press release
Environment Secretary salutes Britain's women farmers
The Environment Secretary will be joined by leading women in farming to celebrate International Women's Day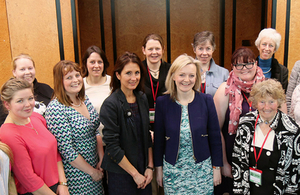 Leading women farmers from around the country will join Secretary of State Elizabeth Truss today to celebrate women's contributions to British farming and the increasing number of women looking to the industry for a rewarding career.
Among those joining the Environment Secretary to mark International Women's Day will be Lynsey Martin, a young beef and sheep farmer and chair of Chair of Agriculture and Rural Issues Steering Group for National Federation of Young Farmers' Clubs, Beverly Dixon, HR Director of major fruit veg grower and exporter G's, in Cambridgeshire, and current Harper Adams Business Management student Jessica Spencer.
The group will discuss a wide range of issues relating to women in farming, including the barriers women continue to face when starting and building a career in the industry. As well as exploring ways to reduce these obstacles, the roundtable will look at how to encourage more female students and women to consider farming as a serious career choice.
Today, women make up 28% of the British agricultural workforce and the numbers of women running farms has steadily increased to just over 25,000. Dynamic groups like Ladies in Beef and Ladies in Pigs are fantastic examples of women who are at the forefront of promoting quality British produce at home and overseas. Women are increasingly taking on senior positions in key farming organisations - including the NFU and AHDB.
Universities and colleges are also reporting a rise in female students taking agricultural courses. The latest Higher Education enrolment figures show 25% more women (1,115) than men (820) enrolled onto agricultural-related courses last year. The Royal Agricultural University, in Cirencester, has seen a 44% increase of female students, while Harper Adams University, in Shropshire, has recorded a doubling of the number of female students studying agriculture over the last five years – boosting female representation in the agricultural faculty to nearly a third.
Environment Secretary Elizabeth Truss said:
The increasing number of women looking to a career in food and farming is positive and exciting. Farming, like any industry, needs to attract new talent and ideas and harness the skills of both young women and men.

International Women's Day provides us with an excellent opportunity to celebrate the contribution women are making to farming - from agricultural engineering to food production and advising retailers and supermarkets.

With agricultural often perceived as a male-dominated industry, it's important we recognise the leading role women are playing. Now I want to see the industry build on this and more women taking on jobs in farming.
In addition to hosting the roundtable, the Secretary of State will also attend a Ladies in Agriculture event to mark International Women's Day. Inspirational women working across the industry will talk to the professional networking group about qualifications and careers in agriculture, including how to put an agricultural qualification into practice and why agriculture is a great career opportunity.
Notes:
Latest available figures show the numbers of women running farms has steadily increased from under 23,000 in 2010 to just over 25,000 in 2013.
Case studies:
Jessica Spencer – Studying Business Management at Harper Adams:
Currently studying Business Management at Harper Adams, after graduating Jess wants to move into farm retail/business and one day hopes to take over her family's farm shop and expand it further. Jess' family farm made the decision to cease dairy farming in the early 1990's and diversify to concentrate on farm retail, selling fresh fruit, vegetables and free range eggs through their farm shop which expanded to include an in-house butchery, Deli counter and bakery. Seeing this type of innovation first hand Jess believes that for British farmers to survive through time of hardship UK farming families need to become innovative and discover alternative means of income. She believes that the need for change within the sector can and will be stimulated by the introduction of women into the agricultural field. Jess is passionate about farming and supporting British farmers, taking inspiration from a quote which was part of the driving force for moving into agriculture: 'Once in your lifetime you will need a doctor, a lawyer and a policeman, but every day, three times a day we need a farmer.'
Jess said:
There is never two days the same in the farming sector and our British farmers work so hard to produce sufficient food to feed our nation. We need to continue to support our farmers by buying British grown/reared food and ensure a prosperous future in UK agriculture.
Jo Franklin – Lower Heath farm
Jo has worked on her family's farm since 2004. Originally wanting to be agronomist, Jo took over the books for the family farm following the death of her mother. Jo became a partner in the business in 2012 and is help drive the business forward, identifying new initiatives as well as growing existing ones. In addition to the crops Jo and her parent are also responsible for a flock of 1,000 Romney Breeding Ewes. Jo believes that attitudes towards women have changed over the years and the ancillary industries have become more accepting of women in their companies, however she believe that attitudes in farming have further to go. Jo is motivated by succeeding in a volatile and challenging industry, driving business forward.
Jo said:
Most peoples' barriers are in their minds. You are treated differently as a female in a male dominated industry and have to work harder to be treated equally but farming is not unique in that respect.
Beverly Dixon – HR Director, G's Growers
Having grown up on a farm Beverly studies agriculture at Newcastle University following which she joined the Marks and Spencer graduate scheme. This led to a career in HR and eventually joining G's, a farming and food manufacturer. Beverly enjoys working with like-minded people internationally in primary food production, which fits with her own personal views of making a difference to the people she works with and the communities G's do business in. Beverly feels a sense of worth working in the agriculture industry as she is part of a community of people, helping to feed the UK.
Beverley said:
A lot of people are unaware of what career opportunities are available in the sector and it is a good sector to move into as there will always be a high demand for food meaning better job security.
Lynsey Martin:
Lynsey is a young beef and sheep farmer and chair of Chair of Agriculture and Rural Issues Steering Group for the National Federation of Young Farmers' Clubs. After studying Agriculture with Animal Science at Harper Adams, Lynsey has worked as a self-employed livestock worker which she is passionate about. Working in a male dominated environment Lynsey has experience some scepticism about her ability to do the job , however with hard work Lynsey has been able to prove others wrong and finds that people involved in agriculture appreciate hard work. In the future Lynsey would like expand her small sheep and cattle business to become a completely contained supply chain selling everything she produces through the farm shop.
Lynsey said:
I count myself as lucky to be brought up with the ethic that gender doesn't matter, it is if you are able to do the job. My mum before me was an only child so our family was already well used to women in agriculture as she took on a full role in the farm.
Published 8 March 2016
Last updated 9 March 2016
+ show all updates
Updated with photo from the event
First published.