Press release
Environment Agency clamping down on illegal waste carriers
Waste vehicles have come under the spotlight across Essex, South London and Hertfordshire in a multi-agency stop-and-check operation.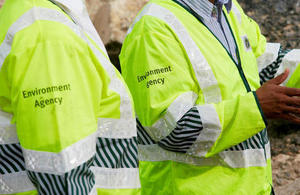 The Environment Agency has been working with the Driver and Vehicle Standards Agency, local councils and HMRC on Operation Salamander stopping vehicles carrying waste in Thurrock, North Greenwich and Bushy in Hertfordshire today (13 January)
All waste carriers have a Duty of Care to ensure they deal with and dispose of waste correctly and should be registered with the Environment Agency.
71 vehicles were pulled over leading to duty of care offences in relation to 26 vehicles stopped. This could lead to potential enforcement action after further investigation.
Lesley Robertson, Enforcement Team Leader from the Environment Agency said:
We want to protect people and communities from the impact that illegally transported and disposed of waste can have, thereby creating a level playing field for legitimate operators.

To help us, we encourage people to check with the Environment Agency first to make sure the company or person they use to take their waste away is registered.

Operation Salamander sends a message to waste carriers that they must fulfil their duty of care and make sure they handle and dispose of their waste properly or they may get caught.
Companies who carry waste must register with the Environment Agency if they transport waste as part of their business, buy, sell or dispose of waste or arrange for someone else to buy, sell or dispose of waste.
They also need to classify their waste and know if it is hazardous or non-hazardous so they can deal with it correctly, register their premises if they produce or store hazardous waste, store the waste safely and securely and follow the rules for moving waste from business premises.
Members of the public can check if a waste company is registered with the Environment Agency on 03708 506 506 and at www.gov.uk/waste-carrier-or-broker-registration.
Published 14 January 2016