Press release
Environment Agency Board appointments
Karen Burrows, Peter Ainsworth and Richard Leafe appointed to the Board of the Environment Agency.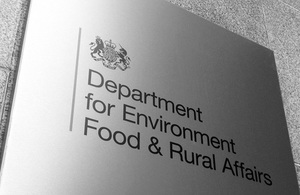 Karen Burrows, Peter Ainsworth and Richard Leafe have been appointed to the Board of the Environment Agency by the Secretary of State for the Environment, Caroline Spelman.
Robert Light has been re-appointed and will take up the post of Deputy Chair from 10 October. Re-appointments have also been confirmed for Emma Howard Boyd, John Varley and Jeremy Walker.
Board members provide non-executive leadership challenge and support to the executive through regular Board meetings, committees and groups. They also undertake individual lead roles on relevant issues and with local operational teams.
Robert Light will receive a remuneration of £16,802 plus an additional allowance of £4,199 per annum for his Deputy Chair responsibilities. Emma Howard Boyd, John Varley and Jeremy Walker will receive £18,202, £21,002 and £25,203 per annum respectively. The new Board members will each receive £16,802 per annum. The difference reflects different time commitments.
All appointments to the Environment Agency Board are made on merit and political activity plays no part in the selection process.
These appointments have been made by the Secretary of State in consultation with the Welsh Government. They comply with the Code of Practice of the Commissioner for Public Appointments.
The Environment Agency is a Non-Departmental Public Body, set up under the Environment Act 1995 to take an integrated approach to environmental protection and enhancement in England and Wales. It has major responsibilities in flood management, water resources and quality, climate change, land quality, chemicals, pollution prevention and control, waste, conservation and biodiversity, fisheries conservation, air quality and navigation.
Biographical details of Board members
Karen Burrows
Karen has a legal and commercial professional background and more recently has held several general management roles. She joined BG Group Plc in 1985 and was a Programme Manager for BG Group Plc's Fit for the Future project from 2007 - 2011. She has many years of management team experience with BG Group Plc from 1985 including Vice President and President of BG Canada, Vice President (South and East Asset) for BG Trinidad and Tobago and Commercial Director for BG Advance. She was a practising lawyer for Linklaters from 1979 - 1985 and Deputy General Counsel for BG Group Plc from 1997 to 1999.
Peter Ainsworth
Peter has been the Big Lottery Fund's UK Chair since June 2011. He is an Environmental Consultant and a founder member of the Robertsbridge Group. He was previously a Director of Corporate Finance in a major Investment Bank. He has a 25 year record of commitment to public life having served at senior levels both as a Local Councillor and as a Member of Parliament in government and opposition. Peter is currently Chairman of two national charities, Plantlife International, and the Elgar Foundation.
Richard Leafe
Richard has been the Chief Executive of the Lake District National Park Authority since June 2007. In 2010 he was a member of the Lawton Review, "Making Space for Nature". He has an academic background in Geography and has been a Fellow of the Royal Geographical Society since 1991. Richard was the Executive Director of the North West Region for Natural England from June 2006 - June 2007 and English Nature's General Manager and Regional Director for the East Midlands from 2003 - 2006. He was the Chairman of the Scientific Council of the European Centre for Nature Conservation from 2000 - 2003 and a member of Defra's Flood and Coastal Defence Research Technical Advisory Group on Policy Issues from 2000 - 2003.
Robert Light
Robert has been a Kirklees Councillor since 1987 and Conservative Group Leader since 2000. He was the Leader of Kirklees Council from 2006 - 9 and was the first Chair of the Leeds City Region. He has also been Chair of the West Yorkshire Fire & Rescue service. A leading member of the Local Government Association Robert is Deputy Chair and a member of the Leadership Board, Executive Board and Children & Young Peoples Board. A farmer by profession he runs his own equestrian & farming business.
Emma Howard Boyd
Emma is Sustainable Investment & Governance Director of Jupiter Asset Management Limited. She is also a Senior Associate of the University of Cambridge's Programme for Sustainability Leadership and a member of the steering committee of the 30% Club, which aims to increase women on UK Corporate boards to 30% through a business-led approach. During 2007, Emma was a member of the Commission on Environmental Markets and Economic Performance, set up by the UK Government to make detailed proposals specifically on enhancing the UK environmental industries, technologies and markets. Emma was Chair of UKSIF, the sustainable investment and finance association until March 2006, when she retired from the board after eight years' service and a non-executive director of Triodos Renewables PLC for eight years until June 2012.
Jeremy Walker
Jeremy has been the Chairman of the Forestry Commission's Yorkshire and Humber Regional Advisory Committee since 2007, and also chairs the North Yorkshire Timber Freight Partnership and the "Slowing the Flow" Partnership Board in North Yorkshire. He chaired the Yorkshire Regional Flood Defence Committee from 2005 to 2009. He was Chief Executive of North Yorkshire County Council from 1999 to 2005 and before that had been Regional Director of the Government Office since1994. His earlier career included being Head of the UK National Community Programme and then led the development of the Employment Training programme nationally, Regional Director of the Department of Employment in Yorkshire and Humberside from 1988 to 1993 and Chairman of the Leeds and Bradford City Action Team. He is a member of the Court of York University.
John Varley
John is the Estates Director of the Clinton Devon Estates, a rural estate with property, farming and forestry businesses in East and North Devon. In 2010 he was a member of the Lawton Review, "Making Space for Nature" and more recently on the judging panel for the Government's Nature Improvement Area competition and a member of the Government's Independent Forestry Panel. John is chairman of the Rural Committee of the Estates Business Group and a member of the National Trust's Rural Enterprise Panel. He has served previously as a Board Member for the Countryside Agency and Commission for Rural Communities.
Published 10 August 2012