Enterprising students to discover new route to employment
The Startup Career Milkrounds is part of the Government's enterprise education package and will see the National Association of College and …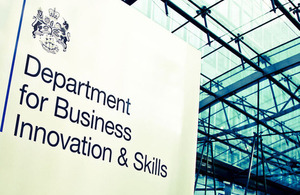 The Startup Career Milkrounds is part of the Government's enterprise education package and will see the National Association of College and University Entrepreneurs (NACUE) and Enternships.com working with university enterprise societies.
They will create a national brand for an annual Milkround fortnight that will give students and graduates the chance to engage with small firms through Milkround-style fairs, securing summer placements, raising entrepreneurial skills levels and creating graduate jobs.
Business and Enterprise Minister Mark Prisk, said:
"Providing opportunities for young people to start and grow a business is crucial to the long term economic success of the UK. The Startup Career Milkrounds, being developed with the university enterprise societies, are a great way for students to meet local businesses, build strong links and discover the opportunities available to them whilst they are studying or when they graduate.
"We are already doubling the number of enterprise societies and aim to have them in every university and most further education colleges by 2015. We will also soon be launching a £10 million startup loan programme for young people so that budding entrepreneurs can get a range of mentoring support and a small amount of capital to start their enterprise. By investing in enterprise now, we can inspire and nurture the entrepreneurs of the future."
NACUE has selected 20 enterprise societies to organise student-led Startup Career Milkrounds for their regions. Each society will receive £500 from NACUE to design and host the event, which will be match-funded by the society's respective university.
Students will have the opportunity to hear from and connect with the vibrant startup communities in their regions, through a series of talks, speed-networking sessions, and meetings with local SMEs.
Hushpreet Dhaliwal, CEO at NACUE, said:
"We cannot ignore the fact that startups and small businesses employ more than 90 per cent of all people in the UK. Working with Enternships.com and student-led enterprise societies, this initiative will link entrepreneurs with local businesses and show students and graduates that startups offer a great alternative career path.
"Startup Career Milkrounds will also give local SMEs access to a wealth of talent in their area. It will remove many of the myths and ideas that young people have about starting their own business and highlight how becoming an entrepreneur can be both a viable and hugely rewarding experience."
Enternships.com will also work with each society so that local startups and SMEs can post placements and jobs on an online portal for free during the campaign fortnight.
Rajeeb Dey, CEO, Enternships.com, said:
"We're delighted to be working with NACUE to deliver a project that will help students find work this summer. A placement is a brilliant way for both companies and student to try out new things and this initiative will create hundreds of new roles."
The initiative will run between 22 May and 2 June at 20 universities in England. Details are available at www.startupmilkround.com.
The Government has also committed to continued investment in youth enterprise by renewing funding to NACUE. The organisation will receive £1.3 million of funding for 2012/13.
This year the Government is running the _Business in You _campaign to encourage more people to start or grow their business throughout 2012 using a range of existing support services, such as enterprise education. More information is available at businessinyou.bis.gov.uk.
**Notes to editors:
**1. Startup Career Milkrounds are taking place at the following societies; Kent Enterprise, Buckingham Business Enterprise Society, Plymouth Entrepreneur Society, Essex Enterprise Group, Bedfordshire Entrepreneurs, Roehampton University Business Club, Brunel Entrepreneur Society, Queen Mary Entrepreneurs, SOAS Ventures Investment and Entrepreneurial Society, HULT International Business School, Ravensboure Enterprise Society, Loughborough Entrepreneurs Society, Warwick Entrepreneurs, Lancaster Entrepreneurs, Chester Enterprise Society, Manchester Entrepreneurs, The University of Bolton Enterprise Society, Royal Holloway Entrepreneurs, South Bank Enterprise Society, Huddersfield Entrepreneurs Society.
The National Association of College & University Entrepreneurs is a grassroots organisation that stimulates student enterprise by supporting, connecting and representing enterprise societies, enterprising students and student entrepreneurs in Colleges and Universities across the UK. Launched in May 2009, NACUE now supports over 80 student enterprise societies, 40,000 entrepreneurial students and 85 institutions in the UK alone, delivering mentoring and training, and sharing best practice to stimulate student entrepreneurship. For more information visit www.nacue.com.

Enternships.com provides ambitious and dynamic students and graduates with an opportunity to learn about business and enterprise through work placements in entrepreneurial and innovative environments, from startups to global venture funds around the world. Founded by Rajeeb Dey, enternships.com formally launched in 2009 and is growing rapidly. More than 3000 companies in over 20 countries have used enternships.com to find graduate talent, including companies like Groupon and PayPal, and celebrities like Martha Lane Fox of LastMinute.com and James Caan and Peter Jones of Dragons Den. For more information visit www.enternships.com.

BIS's online newsroom contains the latest press notices, speeches, as well as video and images for download. It also features an up to date list of BIS press office contacts. See [http://www.bis.gov.uk/newsroom](http://www.bis.gov.uk/newsroom) for more information.
Notes to Editors
Contact Information
Name BIS Press Office Job Title
Division Department for Business, Innovation & Skills Phone
Fax
Mobile
Email bispress.releases@bis.gsi.gov.uk
Name Dan Palmer Job Title
Division Department for Business, Innovation and Skills Phone 020 7215 5303 Fax
Mobile
Published 17 May 2012