'Enterprise can fight global poverty'
The private sector needs to change its relationship with the world's poorest people, International Development Minister Alan Duncan said today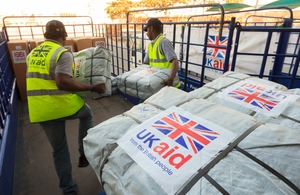 The Minister used a meeting of the UN Global Compact to issue a rallying cry for business to engage further with the developing world.
Alan Duncan said that poor people should be viewed as potential consumers, producers and suppliers rather than just as recipients of aid, and that businesses investing in the poorest countries should look to local communities to fill vacancies and supply goods and services.
"Private enterprise is an absolutely crucial partner in our battle against global poverty," said Mr Duncan at the UN in New York.
"Aid saves millions of lives every year, but it can only ever be a means to an end. Trade and investment are the engines of economic growth, offering the only sustainable way out of the grinding poverty that afflicts nearly a billion people across the globe.
"Some fantastic work has been done under the banner of corporate responsibility, but this is only the first step on the road to prosperity. That's why today I want to call on the business community to begin putting development at the very heart of their business strategies.
"For companies to make a real difference they need to move beyond a view of the world's poorest people as recipients of charity and towards seeing them as active consumers, producers and suppliers.
"This means that a company operating in a developing country should find local workers to fill their vacancies, use local producers and entrepreneurs as their suppliers and create goods and services that can raise local living standards. In return, companies can expect to secure sustainable supply chains and gain a foothold in a new and growing market.
"Some businesses have already recognised this potential. Coca-Cola has found a way to bring hundreds of local entrepreneurs into their distribution networks across Africa. In so doing, they have tapped into dynamic new markets and created over 6,000 desperately needed jobs in poor communities. And SABMiller are helping farmers in southern Sudan to move from subsistence to commercial farming, and they're providing a market for their produce.
"But this transition won't happen through private sector effort alone. If we as governments call for companies to change their business models to provide opportunities for the poor, then we have to do our part too.
"So what do we need to do? I think there are four key things.
"First, we must work with governments to support a stable environment that can attract long-term investment.
"Second, we can help support initiatives that attract large-scale capital investment to developing countries.
"Third, we can help companies manage the risks and share the costs associated with this new business model. For example, my own Department for International Development supported Vodafone to develop the groundbreaking MPESA.
"MPESA helped 9 million Kenyans access financial services through their mobile phones. This has made it easier for countless budding entrepreneurs to do business and work towards pulling themselves out of poverty. But without our partnership, Vodafone may not have been willing to take this risk.
"Finally, we can provide information and technical assistance to help companies understand what sort of pro-poor business models are possible, practical, and profitable. For example, the new DFID Business Innovation Facility will help 30 companies design new business models that will benefit the poor in five countries in Africa and Asia.
"For the sake of the world's poorest we now need international donors to join forces with the private sector through initiatives like these, forming partnerships that can bring real and lasting change to the developing world."
Published 23 June 2010