News story
Enterprise and Regulatory Reform Bill published
Government has already taken action on issues including tax, regulation and planning to support British businesses and promote economic growth…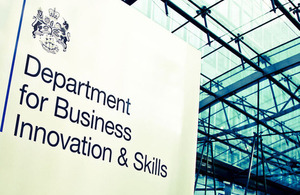 Government has already taken action on issues including tax, regulation and planning to support British businesses and promote economic growth, but Ministers are determined to do more.
Business Secretary Vince Cable said:
"Growing our economy out of a period of acute crisis is the most pressing issue for this Government. We want to make sure the right conditions are in place to encourage investment and exports, boost enterprise, support green growth and build a responsible business culture.
"The measures in the Enterprise and Regulatory Reform Bill will help make Britain one of the most enterprise-friendly countries in the world. It will improve our employment tribunals, reform and strengthen competition enforcement, scrap unnecessary red tape and help ensure that people who work hard and do the right thing are rewarded."
Subject to the will of Parliament, the Bill will deliver legislation aimed at encouraging long term growth by:
Improving the employment tribunal system by encouraging parties to come together **to settle their dispute before an employment tribunal claim is lodged, through Acas early conciliation and greater use of **Settlement Agreements. It will also make the determination of less complex disputes quicker and cheaper for employers and employees alike, through a new '**Rapid Resolution' **scheme. Taking away the fear of employment tribunals will give business more confidence to take on new staff.

Establishing a new Competition and Markets Authority, bringing together the competition functions of the Office of Fair Trading and the Competition Commission. This will be the principal competition authority with a remit to tackle anti-competitive behaviour and ensure dynamic and open markets. Competition processes will be faster, with clearer timeframes bringing greater certainty and reduced burdens on business.

Setting the purpose of the UK Green Investment Bank in legislation, embedding its operational independence and providing Government with a specific power to finance it, with initial funding of £3 billion to March 2015. These measures will help the Bank to accelerate long-term private sector investment in the UK's transition to a green economy.

Addressing the disconnect between directors' pay and long-term company performance by giving shareholders of UK quoted companies binding votes on directors' remuneration. This will encourage shareholders to be more engaged and companies to listen to what they say.

Deterring the importation and sale of unauthorised replicas of classic designs which qualify for copyright protection and extending copyright protection for mass-produced artistic works to life of the creator plus 70 years. These measures will promote innovation in the design industry and encourage investment in new products, while discouraging unauthorised copies.
**The Bill will simplify regulation by:
* **Reducing inspection burdens on businesses of all sizes and increasing SME access to reliable, consistent advice on complying with regulations in areas such as trading standards, health and safety and environmental health.
Ensuring powers to put a time-limit on new regulations via 'sunset clauses'. Departments should make a case to keep regulation - otherwise it will be scrapped.

Repealing some unnecessary regulations, e.g. improving the operation of heritage consent regimes without reducing necessary protections.
This important new Bill will cut the costs of doing business in Britain and remove regulatory burdens that currently inhibit innovation. It will boost consumer and business confidence and help the private sector create jobs.
The Bill now begins its passage through both Houses of Parliament.
**Notes to editors:
**1. The Enterprise and Regulatory Reform Bill can be accessed at [http://services.parliament.uk/bills/#e](http://services.parliament.uk/bills/#e) (From 2.30pm, 23 May 2012)
The Government recently consulted on proposals to give shareholders binding votes on directors' pay. Following consideration of the consultation responses, the Government aims to bring forward further detail on how this will work later in the legislative process.

We are changing the name of 'Compromise Agreements' to 'Settlement Agreements' to help improve understanding of their purpose. This is part of a broader package to simplify and increase the use of such agreements to resolve workplace disputes, particularly for small businesses, without the need for an employment tribunal. We believe 'settlement' more accurately describes an agreement that is about delivering a satisfactory solution for both parties.

The legislation on 'Rapid Resolution' will allow legal officers to determine prescribed employment tribunal claims. This will resolve more straightforward employment disputes - such as holiday pay - quickly and at less cost to both parties.

The Bill includes some of the first repeals to be implemented from the Red Tape Challenge. Overall, of the 1,500 regulations where Ministers have already made decisions, the Government has committed to scrap or improve well over 50%.

Reducing inspection burdens and increasing access to regulatory advice will be achieved through extending eligibility to the 'Primary Authority' scheme and strengthening inspection plans formed under the scheme. For more information, please visit the Better Regulation Delivery Office website.

BIS's online newsroom contains the latest press notices, speeches, as well as video and images for download. It also features an up to date list of BIS press office contacts. See [http://www.bis.gov.uk/newsroom](http://www.bis.gov.uk/newsroom) for more information.
Notes to Editors
Contact Information
Name BIS Press Office Job Title
Division Department for Business, Innovation & Skills Phone
Fax
Mobile
Email bispress.releases@bis.gsi.gov.uk
Name Una Flynn Job Title
Division Department for Business, Innovation and Skills Phone 020 7215 5256 Fax
Mobile
Email Una.Flynn@bis.gsi.gov.uk
Published 23 May 2012