Enrol now for successful Dux Awards Scheme
Information on the Dux Awards, which give outstanding year 9 students the opportunity to visit leading universities.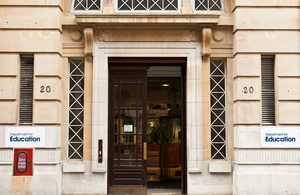 Registration opens today for the Dux Awards, with more pupils able to benefit from the successful scheme.
Teachers select a year 9 pupil as their Dux (latin for champion), who is rewarded with a visit to one of the Russell Group universities. All 24 Russell Group universities are taking part in the scheme, recognising and rewarding performance and potential in maintained secondary school pupils, and raising their aspirations.
The Russell Group represents leading UK universities which are committed to maintaining high-quality research, outstanding teaching and education, and excellent links with business and the public sector.
Last year 1,400 pupils from 750 schools attended a special event at one of the universities. This year even more schools are expected to register.
Registration closes on 8 February and the events are due to be held from May to July.
Schools Minister David Laws said:
The Dux Awards offer excellent opportunities for pupils and teachers from across the country to experience university life and gain greater insight into the opportunities further study provides.
This can particularly help schools and pupils who would not normally get the chance to access top universities - including students from more disadvantaged backgrounds. > > I am delighted that students can take advantage of this scheme, and strongly encourage schools to participate and support their pupils in setting their sights high.
Dr Wendy Piatt, Director General of the Russell Group, said:
We are delighted to be offering more bright prospective students the opportunity to come and meet our students and staff and have taster sessions this year. Wherever you're from, with the right grades, attitude and potential, you have a good chance of getting into a Russell Group university.
 Notes to editors
Those wishing to register and find out more about the university visits can do so via the Department's website.

The Russell Group's 24 members are Birmingham, Bristol, Cambridge, Cardiff, Durham, Edinburgh, Exeter, Glasgow, Imperial College London, King's College London, Leeds, Liverpool, London School of Economics and Political Science, Manchester, Newcastle, Nottingham, Oxford, Queen Mary, Queen's University Belfast, Sheffield, Southampton, University College London, Warwick and York. More details can be found on the Russell Group website.

In 2016-17 the £36.8 million which Russell Group universities will spend on outreach measures will be used to support numerous summer schools, open days, special entry routes and access programmes to give students from lower socio-economic groups the best possible chance of winning a place. See the Russell Group website for more details of outreach activities and initiatives undertaken by Russell Group universities.
DfE enquiries
Central newsdesk - for journalists 020 7783 8300
General enquiries - for members of the public 0370 000 2288
Website: www.education.gov.uk/help/contactus
Published 28 January 2013