Press release
Enrique Anderson named OBE in recognition of his significant contribution to UK-Peru relations
Enrique Anderson, President of the British-Peruvian Chamber of Commerce has been named by Her Majesty Queen Elizabeth II, as Officer in the Most Excellent Order of the British Empire (OBE)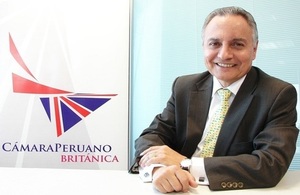 Enrique Anderson, President of the British-Peruvian Chamber of Commerce, recently named President of Británico, and vice president of the British Club in Lima, the Phoenix Club, has been named by Her Majesty Elizabeth II, Queen of the United Kingdom of Great Britain and Northern Ireland, as Officer in the Most Excellent Order of the British Empire (OBE), in recognition of his significant contribution to the British community in Peru and to trade between Peru and the United Kingdom.
Mr Anderson joined the board of the British-Peruvian Chamber of Commerce in 2004 and took over as President in 2011. Since joining the board, he has worked tirelessly to help British firms trade with Peru. He turned the Chamber into one of the most dynamic and successful bilateral chambers of commerce in Peru. He has contributed to the promotion of British English and British culture and art through his role in the Association Cultural Peruano-Britanico, where he has recently been named President. And he has served the British community in Lima through holding office on the board of the Phoenix club.
The British Ambassador to Peru, His Excellency Anwar Choudhury, said:
"I am delighted that Enrique has been given this award. He is a great friend to me, to the Embassy and to the United Kingdom. His personal commitment to strengthening the relations between Peru and the UK has been unfaltering over many, many years and he richly deserves this high honour from Her Majesty."
Mr Anderson commented that, "It is an honour for me to receive this award. I would like to thank Her Majesty and the British Ambassador for this recognition and to all the colleagues that have supported me in the promotion of the commercial, social and cultural relations between UK and Peru."
Mr Anderson's award also recognises his valuable charitable contribution, through the Corporate Social Responsibility programmes at the Británico and the Peruvian Chamber of Commerce, as well as his support for vulnerable young people, including victims of abuse and former drug offenders, through his programme at the Jardines de la Paz Cemetery.
The full list of honorary British awards approved by the Queen in 2016 is available here.
Published 12 September 2016