Enhancing UK-US business links
Foreign Office Minister for North America Alistair Burt welcomed Massachusetts Governor Deval Patrick to the Foreign Office today.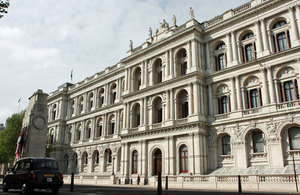 Speaking after the meeting the Foreign Office Minister said:
"It was a great pleasure to welcome Governor Patrick to the Foreign Office this morning. The United States remains the UK's most important bilateral ally and vital economic partner. Governor Patrick has consistently ensured that Massachusetts welcomes British investment. As a result of his visit I am delighted that British businesses have expressed great interest in expanding their operations in Massachusetts this year.
"The Governor, also, discussed the success of his trip last week to Israel with me. I look forward to visiting Massachusetts in the future and continuing to develop a close working relationship with Governor Patrick which will continue to benefit both the UK and United States."
Published 16 March 2011