Enhancing the UK-South Africa relationship
Minister for Africa Henry Bellingham is visiting South Africa to discuss a range of current foreign policy, trade and investment issues.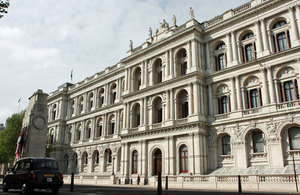 Henry Bellingham's visit from 17-19 July is part of a jointly agreed programme of efforts with the South African government to enhance the relationship between the two countries, and follows recent visits to South Africa by Prime Minister David Cameron and Foreign Secretary William Hague.
The visit coincides with former President Mandela's 94th birthday. Mr Bellingham will mark his birthday by attending a reception held in aid of "Little Eden" - a non-profit organisation that provides 24-hour residential and nursing care for 300 children and adults with profound intellectual disability.
Mr Bellingham's programme will include a visit to a new regional power generation facility on the Mozambique/South African border.
The Minister will also attend a school sports event, linked to the Olympic legacy "International Inspiration" project, in Soweto as well as attending the send off of Team SA as they head for the London 2012 Games.
Published 18 July 2012