World news story
Enhancing cooperation between the British and Uzbek Parliaments
This was published under the 2010 to 2015 Conservative and Liberal Democrat coalition government
Ambassador George Edgar met Uzbek parliamentary officials,Ms Okilakhon Karakhodjaeva and Mr Bekzod Musayev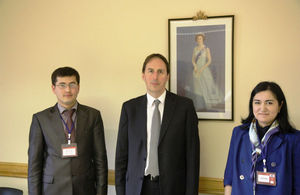 The officials from the Senate and the Legislative Chamber of Uzbek Parliament visited London in February 2013 in order to learn about how British parliamentary democracy works and how Parliament operates on a day-to-day basis. It was the first visit of this kind in the history of Uzbek and British parliamentary exchange, involving civil servants.
HM Ambassador discussed with Ms Karakhodjaeva and Mr Musaev the results of their exchange with their British colleagues, which included more than twenty meetings in both Houses of Parliament, touching on subjects including how each side supports MPs and members of the upper House, and how both parties might learn from each other. During these meetings they heard about the structure of the British Parliament, the legislative process and the process for drafting bills. They also had a chance to consider the UK Parliament's role in considering foreign affairs and the development of relations with overseas parliaments; discussed ethical issues in parliamentary work, media coverage of parliamentary activities, work with the public's inquiries, research and scientific supported provided to MPs; and compared recruitment and training processes for parliamentary clerks. The visitors also observed proceedings in both Houses of Parliament and attended Prime Minister's Question Time in the House of Commons, which they described as an interesting and worthwhile experience. They met officials in the Foreign and Commonwealth Office who work on Uzbekistan issues.
After their return from the UK, Ms Karakhodjaeva and Mr Musayev delivered presentations to Uzbek Senators, MPs and other parliamentary clerks, speaking about the results of their meetings in the British Parliament and the Foreign and Commonwealth Office. They are developing a range of recommendations, based on their experience in the UK, that might be used for the further development of the Uzbek Parliament.
Ms Karakhodjaeva and Mr Musayev's visit was the latest in a series of exchanges between Uzbek and British parliamentarians, including through visits to Uzbekistan by Baroness Stern and Baroness Warsi (now Senior Minister of State at the Foreign and Commonwealth Office), Lord Waverley and Peter Lilley MP in 2012; and Senator Safaev to the UK in November 2011.