From Bath to Birmingham, John Penrose marks the week with seven days of activity.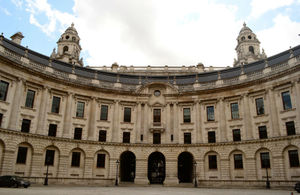 The tourism Minister began the week by rolling up his sleeves to serve ice-cream in his constituency on the pier in Weston-Super-Mare to some out-of-this-world customers!
Mr Penrose then followed this up with a trip to Bath on Monday to open its new Visitor Information Centre. And on Wednesday he attended the Best of Britain and Ireland show (BOBI), to take part in a question and answer session with James Berresford, Chief Executive of VisitEngland.
A year to remember
"Tourism in England benefits everyone, everywhere, every day," said Mr Penrose. "English Tourism Week 2012 offers the industry a fantastic opportunity to showcase itself and put tourism centre stage in what promises to be a year to remember!  Whether you're an individual, a business, a trade association or a local authority this is your chance to kick-start the year and celebrate one of England's most important industries."
English Tourism Week runs from 10-18 March and follows the launch of VisitEngland's 20.12 discount scheme to encourage more people to holiday in the UK.
Further information
Published 16 March 2012