England to become a global leader of teaching character
Education Secretary Nicky Morgan announces multi-million pound push to improve character education in England.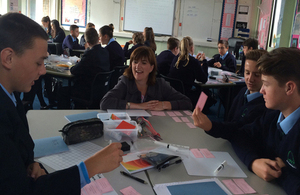 A multi-million pound push to place England as a "global leader" in teaching character, resilience and grit to pupils will be announced by Education Secretary Nicky Morgan today (16 December 2014).
Schools and organisations that offer activities promoting character in pupils will see these programmes expanded through a new £3.5 million fund, designed to place character education on a par with academic learning for pupils across the country.
Announced as a "milestone in preparing young people more than ever before for life in modern Britain", the move will see new and existing projects encouraged to develop the virtues in pupils that are vital to fulfil their potential and realise their aspirations.
Today, the abilities and traits that help young people persevere with setbacks, confidently engage in debates, and contribute to the wider community have been recognised by Education Secretary Nicky Morgan as "equally important" to young people as securing good grades.
Nicky Morgan said:
Today's announcement of a £3.5 million grant scheme for character education projects is a milestone in preparing young people more than ever before for life in modern Britain. It will provide a boost to those already doing great work, while also helping excellent projects get off the ground.

Excellent teachers already produce well-rounded pupils, and today's news will give more schools the support, inspiration and resources to go even further.

The move is a landmark step for our education system. It will cement our position as a global leader in teaching character and resilience, and will send a clear signal that our young people are being better prepared than ever before to lead tomorrow's Britain.
Examples of existing character efforts include those by London's King Solomon Academy, which fosters commitment, endeavour and resilience, as well as scholarship, in its inner-city pupils. Inspired by the US Knowledge is Power programme (KIPP), the headteacher has introduced character-based rewards for pupils, while unabridged Shakespeare plays are produced from year 7 onwards.
School 21, a free school in Stratford, east London, places the 'growth' of the whole child at the centre of its education. It has developed a rich well-being curriculum that stresses the importance of self-control, humour and charity. The school day includes time for students to 'master' personal goals, such as grammar, an instrument or a language.
From early next year, projects can apply to the fund to expand their existing efforts or to set up new initiatives. All approaches of character education will be considered, including those based both in and out of school, but applicants must display evidence that their activities result in better grades, improved behavior or improved job prospects.
Ensuring all pupils leave school ready for life in modern Britain is a key part of the government's plan for education. Creating a strong work ethic, along with raising educational standards and improving classroom behaviour, is also crucial for building a strong future for Britain's economy.
A further £1 million has also been announced to expand research into the most effective ways that character can be taught. The funding, to be matched by the Education Endowment Foundation, will test the work of non-profit character education projects through school-based randomised control trials.
The evidence will be used to further develop approaches to character education. While evidence from across the world, particularly the US, already exists, today's announcement intends to secure England's place as a global leader by expanding the nation's provision and evidence base for character education.
The government recently announced awards worth up to £20,000 each for schools and organisations that are already doing excellent work in character education. Schools and organisations will be invited to apply from 5 January 2015.
DfE enquiries
Central newsdesk - for journalists 020 7783 8300
General enquiries - for members of the public 0370 000 2288
Published 16 December 2014