England fans – how we can help you
We can help if you experience a serious problem during the World Cup, such as an accident or injury, but we can't sell your spare match tickets or get you a free flight home.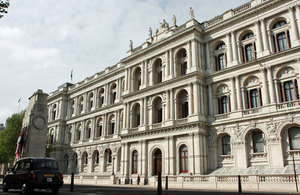 Foreign Office staff were at Heathrow today with the England band to provide departing fans with key travel information for South Africa, including emergency numbers and advice on road transport.
They were also reminding fans about what kind of help consular staff in South Africa can offer.
They can't:
Get you a free flight home if you miss yours

Issue replacement match tickets

Get you into a football stadium if you are excluded by security staff

Re-instate your season ticket from your local football club
*Based on enquiries to the Foreign Office from football fans during previous international matches
But they can:
Issue you with a replacement passport if yours is lost or stolen

Help you transfer money

Offer support if you have suffered rape or serious assault; are a victim of other crime; ill or in hospital

Provide a list of English-speaking local lawyers, interpreters, doctors or funeral directors

If you are imprisoned, look after your welfare and visit you

Help people with mental illness

Offer support and help in a range of cases such as child abductions, forced marriage, death of relatives overseas, missing people and kidnapping

Make special arrangements for Britons caught in acts of terrorism, civil unrest or natural disasters
Speaking on Sky News today, Foreign Office Minister Jeremy Browne MP urged England fans to enjoy themselves, look after their own safety and be considerate to their hosts:
"I hope that people will go and enjoy themselves, realise that they're the guests of South Africa, behave respectfully towards the host country but have fun as well."
For more advice and tips for fans, see our World Cup Travel Advice
Published 8 June 2010