Engineers and logisticians busy building in Helmand
Engineers from 1st Armoured Engineer Squadron, 21 Engineer Regiment, recently supported a 1st Battalion The Duke of Lancaster's Regiment operation…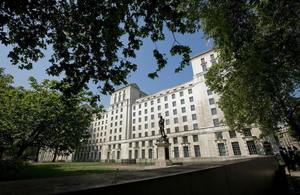 Engineers from 1st Armoured Engineer Squadron, 21 Engineer Regiment, recently supported a 1st Battalion The Duke of Lancaster's Regiment operation to push south from their bases in the Nad 'Ali region of Helmand province.
The major development operation was designed to clear routes to allow checkpoints and patrol bases to be located further south.
The engineers followed the infantry into the new compounds in order to build temporary, defendable patrol bases so that ISAF can provide greater security in the area which will ultimately increase freedom of movement for the local people.
Two patrol bases have been built so far which will increase the ISAF coverage by a further kilometre.
Intimidation by the insurgents is higher in areas where the ISAF footprint ceases so these new bases are crucial to isolating the insurgency from the local national population.
Once the tasks had been completed, an Afghan National Army (ANA) patrol with ISAF adviser call signs (units) attached took control of the patrol bases.
The engineers will return later in order to establish more permanent patrol bases on other greenfield sites.
Meanwhile in Sangin, engineers from 73 Armoured Engineer Squadron have carried out substantial engineering works at Patrol Base Suffolk, an ANA-run base where there is partnering by elements of the 1st Battalion The Royal Regiment of Scotland Brigade Advisory Group.
Royal Marines based in Sangin provided force protection while the engineers got on with the construction.
The focus of the building works was three fold: reinforcement, rebuild and compound consolidation. External walls were reinforced, with large sections being rebuilt or re-engineered into optimal positions for compound protection, and the three internal buildings were rationalised into one.
This has allowed the creation of a combined ANA/Advisory Group operations room and communal spaces.
Consequently, the enhanced patrol base infrastructure and efficiencies made through combining working spaces freed up 20 to 25 ANA soldiers from routine force protection duties.
This additional manpower lift of ANA soldiers will be used in future operations in the Sangin area to help increase security and improve the freedom of movement for local Afghans.
Of course new bases need materials to be built from and over the last two weeks soldiers from 12 Logistic Support Regiment have been in the Green Zone of southern Helmand delivering essential engineering stores in support of building projects in that region for the UK forces based there.
The soldiers worked tirelessly moving stores and containers around new company locations, negotiating deep rivers and driving through bustling bazaars.
These much needed stores are essential to keep patrol bases adequately stocked and ultimately allow UK soldiers in these areas to improve security and provide reassurance for the local nationals.
Published 3 June 2010