News story
Engaging youth in child protection & women's empowerment to end violence against women & girls
Acting British High Commissioner Steven Chandler attended the opening of a two-day workshop in Suva today, as guest of honour.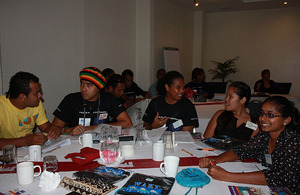 Mr. Chandler delivered opening remarks alongside Minister for Health, Dr. Neil Sharma, and Head of the European Union Delegation to the Pacific, His Excellency Andrew Jacobs.
The workshop, titled "Engaging Youth in Child Protection & Women's Empowerment to End Violence against Women & Girls" is part of the wider All Women And Children Empowered Now (AWACEN) project, which is funded jointly by the British High Commission and the European Union. The British High Commission's support is worth FJD89,750.
Today's workshop is a joint initiative between Medical Services Pacific (MSP) and the Aspire Network. It is the first in a series of three workshops that will be held around Fiji. The other two workshops will take place in Labasa and Nadi in the upcoming months.
MSP is a local NGO that works to enable Pacific women and young people to have greater access to quality health services and information to make healthy life choices. Aspire Network is an NGO that works in the area of youth development. Together, they aim to end sexual assault and gender-based violence by introducing Fiji's youth to issues of child protection and women's empowerment. They also aim to raise awareness of the clinical and support services available to young people.
Participants at the two-day workshop include youth leaders from the National Youth Council, religious organisations, villages, provinces, NGOs and the Aspire Network.
The workshop is an opportunity for participants to consider how they can address the issues of child protection and violence against women and girls, contributing to a healthier and safer future for women and children in Fiji.
Mr. Chandler said, "tackling violence against women and promoting gender equality, both at home and internationally, is a priority for the UK Government."
See photos on Flickr
Published 21 March 2013