Press release
Enforcement action taken to remove unregistered vessels
Boaters reminded to renew registrations.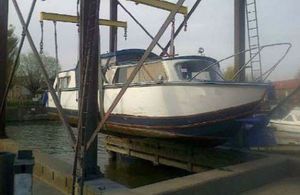 Boaters are reminded to renew their registration before 1 April 2015 or risk their vessel being removed from Environment Agency waterways.
The Environment Agency has started an annual programme to remove dangerous and unregistered vessels from the Anglian Waterways. One unregistered boat has been removed from the River Wissey in Norfolk and there are plans to remove more vessels over the coming weeks.
All vessels kept, used or let for hire on Environment Agency waterways, including the main river, private moorings, marinas or backwaters, must be registered. As part of the registration process the vessel owner must have the appropriate safety certificates and relevant insurance.
If a vessel is not registered the Environment Agency cannot be sure it is safe; therefore these vessels could be a potential hazard to other boat users. They may also be a pollution risk and have negative impacts on wildlife.
Candy Reed, the Environment Agency's Enforcement and Partnerships Officer said: "If you keep, use or let for hire a vessel on any Anglian Waterway you must display a valid registration disc and registration number. Failure to register your vessel is a criminal offence, you may be prosecuted and risk having your vessel removed. We will also look to recover our costs wherever possible from the vessel owner".
Owners who fail to renew their registration will receive written warnings and final notices are issued in the form of a 'yellow sticker'. The 'yellow sticker' demands vessel owners prove the vessel is registered. If no proof of registration is provided within 28 days, then the Environment Agency will consider removing the vessel from the water.
If a vessel changes ownership it is the owner's responsibility to inform the Environment Agency in writing of the new owner; until this is done, they remain the legal owner and responsible for registering it.
Vessel registration charges are crucial for maintaining the 568km of Anglian Waterway navigable rivers, lock sites and other navigation facilities. The Environment Agency routinely inspects locks, moorings and other structures to make sure they are in good condition. Larger projects such as lock refurbishments are also carried out normally during the winter months.
Recent prosecutions for those who have failed to register their vessels include the following:
Martin Griffiths of Church End, Donnington, Spalding Fined £228, costs £250 and victim surcharge £22
Andrew Keller of Blackthorn Lake Marina, Station Road, Ringstead, Kettering Fined £870, costs £250 and victim surcharge £87
William Kidd of Hills and Hollows, Barnwell Road, Oundle Fined £870, costs £250 and victim surcharge £87
Steve Thompson of Kestrel Lane, Wellingborough
Fined £150, costs £250 and victim surcharge £20
John Williams of Sedop Close, Saffron Walden
Pleaded guilty by post and was fined £250, pay costs of £250 and victim surcharge of £20
For more advice on how to register a vessel contact the Environment Agency on 03708 506 506, email boatreg, write to Environment Agency, Boat Registration, PO Box 544, Rotherham, S60 1BY or visit the following website www.gov.uk/register-a-boat
Published 3 March 2015