News story
Energy innovation celebrated at cleantech awards
Innovate UK-supported ITM Power was the big winner at the Rushlight Awards, while another 5 organisations received accolades.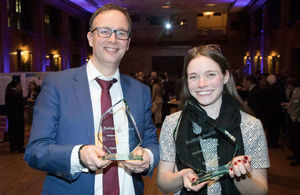 Specialist manufacturer of integrated hydrogen energy systems ITM Power walked away with the top honour at the Rushlight Awards, which took place at the Royal College of Surgeons in London on 25 January.
The Rushlight Award is presented to an organisation whose contribution to addressing environmental issues has either had a significant impact in reducing the global footprint, or has the potential to do so. It recognises ITM Power's efforts to enhance and encourage the use of renewable energy and minimise unnecessary waste.
In addition to being announced as the overall winner ITM Power picked up the Clean Energy Award and the Hydrogen & Fuel Cells Award.
Other winners who have benefited from Innovate UK support include:
the European Marine Energy Centre, which won the Marine & Hydro Energy Award for harnessing energy from a marine or inland waterway environment
Smart Separations Ltd, awarded the Rushlight Clean Environment Award for technological developments or innovations that prevent, reduce or treat pollution, noise or other contamination
Three businesses that have received help from Innovate UK were also commended:
Sustainable Pipeline Systems in the category of Responsible Product or Service Award
ULEMCo for both Hydrogen & Fuel Cells and Clean Energy
WaterGEN for Power Generation and Transmission
Published 26 January 2017