World news story
Ending sexual violence in armed conflict – from resolution into reality
Event in Brussels brought together key stakeholders to discuss and raise awareness of sexual violence in armed conflict, and how to end it.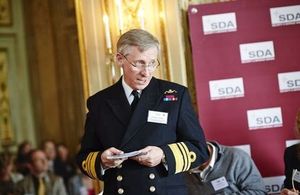 The UK's representations to the EU and NATO convened a public event last week to discuss the UK-lead initiative of preventing sexual violence in armed conflict (PSVI). A packed audience of policymakers, non-governmental organisations (NGOs) and academics heard from a number of expert panellists, including Dr Andrew Long, who works on the UK-lead initiative for the Foreign and Commonwealth Office (FCO). The UK's military representative to NATO and the EU, Vice Admiral Ian Corder, opened the event and outlined the context for the evening's discussion, including the UK and NATO's work in this area.
2014 is a year which provides important opportunities to drive the agenda of change forward. The first of these opportunities will come on 10 June, when the Foreign Secretary William Hague convenes a three day Summit in London, focussed on ending sexual violence in conflict. In September, world leaders will gather in Wales for the NATO Summit, where gender perspectives in armed conflict will also feature.
As well as speakers from the UK and the NGO sector, the event also heard from Mari Skaare, NATO's special representative for women, peace and security. Last week, NATO and its partners from the Euro-Atlantic Council (EAPC) released a revised policy on United Nations Security Council Resolution (UNSCR) 1325 and its related resolutions on Women, Peace and Security, which aims to step up the implementation of gender-related measures in NATO civilian and military structures, as well as in NATO-led operations and missions. The revised policy, builds on the Alliance's experience in enforcing UNSCR 1325 and its related resolutions.
Why Preventing Sexual Violence Initiative (PSVI)?
Ending conflict-related sexual violence is of fundamental importance to international peace and security. Whilst it disproportionately affects women and girls, many men and boys are also victims. The overwhelming majority of this violence goes unpunished and becomes part of the cycle of violence that perpetuates conflict. It is also a major factor in refugee flows, and often condemns the victims to lives of poverty, slowing national economic development. This global scourge should be at the heart of how we view conflict prevention and foreign policy in the 21st century.
Published 20 May 2014