End to red tape that stopped social home improvements
Housing Minister Grant Shapps today pledged extra cash to improve the condition of social homes, helping to provide a decent home for some of…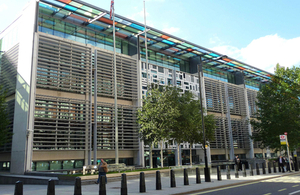 Housing Minister Grant Shapps today pledged extra cash to improve the condition of social homes, helping to provide a decent home for some of the most vulnerable families across the country. Over £2bn of funding will be allocated to complete the Decent Homes programme, with the money going to councils who need it most.
Ministers believe the previous system for allocating money was overly bureaucratic, and meant councils spent too much time and expense jumping through hoops, rather than making improvements to social homes.
Mr Shapps said the money would now be allocated to councils who showed they could tackle a significant backlog of homes that need improving, rather than on the basis of a particular organisational structure or general performance criteria.
The changes to the allocation process are part of the Government's commitment to fairness, ensuring that following the tough spending review, money is directed towards frontline services and protecting the most vulnerable people in society.
Grant Shapps said:
Previously tenants were in the worst homes when landlords were denied Decent Homes cash because they did not play by the previous Government's rules. I believe that's completely unfair - tenants are missing out on vital improvements to their homes through no fault of their own.

That's why I'm changing the system so from now on the areas that need the money most will get it. And it's why despite the steps the Government is taking to tackle the record deficit, we've set aside over £2bn to make sure these homes are brought up to scratch.
Ministers want a fair system to allocate the funding, so all councils that have a significant backlog of work will now be able to apply. Proposals published for consultation today set out the new process, and welcome the views of councils and social landlords on the best way to gather information and make fair funding decisions.
Notes to editors
1. The Spending Review announced the Government will invest over £2bn of capital funding to help towards completing the Decent Homes programme. Funding of £1.595bn is available over the next four years to help make local authority social homes decent (with an additional £0.510bn being provided for 'gap' funding existing stock transfers). We will be working with the HCA to ensure that decent homes funding is allocated where it is needed and in order to support the self financing settlement.
For information on the Decent Homes proposals visit www.homesandcommunities.co.uk/decenthomes (external link)
Twitter
Keep up to date with the Department by following us on Twitter (external link).
Media enquiries
Visit our newsroom contacts page for media enquiry contact details.
Published 11 November 2010