News story
End aid dependency through jobs
British businesses have a key role to play in the economic development of low income countries, says International Development Secretary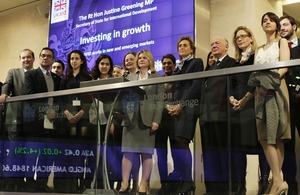 British businesses have a key role to play in the economic development of low income countries, International Development Secretary Justine Greening said today (11 March 2013).
Speaking to an audience of business leaders and development specialists at the London Stock Exchange, Ms Greening said that while businesses like Vodafone, Unilever, Waitrose and GSK are already investing in the communities where they work, more medium-sized companies should join the development push with the Department for International Development (DFID).
Justine Greening said:
"I want to see DFID become a hub for knowledge sharing, advice and support for projects which have a clear development gain.
"And I want DFID to help build up strong and investable business environments.
"That means helping countries build their own tax base, squeezing out corruption and providing the technical advice that means when economic growth does happen, countries are well placed to reap and then reinvest the gains.
"We do developing countries no favours by leaving the economic coast clear for those with corporate governance standards that are far lower than our own.
"My objective for developing countries is an end to aid dependency through jobs.
"Every time Britain has been at its most successful, it's been when we've been out in the world, trading, doing business. We've never stood on the sidelines. And we can't afford to start now."
Xavier Rolet, CEO, London Stock Exchange Group, said:
"DfID's work supporting developing economies around the world is essential in enabling UK companies to enhance trade links and support growth. At London Stock Exchange Group, our work with developing and emerging economies - forming partnerships with stock exchanges in these economies, and providing an international platform for companies from all over the world to raise capital - is at the heart of our business.
"By combining the power of private sector investment with international aid, we can help the developing economies of today become the emerging economies of tomorrow, and enhance the role of the UK in a changing global economy."
The new measures announced today include:
a Tax Capability Unit within HMRC to provide an in-house team of tax experts dedicated to working with DFID teams in developing countries where there is a high prospect of developing their tax base

a Commercial Law and Justice Programme that will help to identify and remove legal constraints that add to the costs and risks of doing business in partner countries and encourage reform

a £51 million investment in DFID's International Growth Centre to expand its work to Burma, Malawi, Liberia and Nigeria. The IGC provides expert, independent growth policy advice direct to governments in developing countries

a joint work programme with the CBI, industry bodies and NGOs to identify barriers to working in developing countries and how the UK government can help to remove them.
Published 11 March 2013