Encouraging strong relationships
Edward Timpson, Minister for Families, visited a parenting class in High Peak, Derbyshire.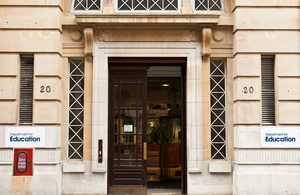 Today (26 November 2012), Families Minister Edward Timpson will highlight the government's commitment to support strong and stable family life in England. During a visit to a parenting class in Derbyshire, the minister will announce the successful organisations that will provide information and support on relationships to approximately 2.5 million people across the country from 2013 to 2015.
Expert organisations from the voluntary and community sector will share £15million to offer support ranging from information and advice for new parents, developing good communication and partnership skills for marriage, and specialist counselling for relationship breakdowns.
Research by the Department for Education (DfE) indicates that, however supportive friends and family might be, most people would welcome professional advice and problem solving strategies. Of those surveyed:
over 80% said that they would like help to improve couple communication
60% showed interest in relationship-building courses
78% of respondents who had separated showed interest in attending courses on problem-solving
74% were interested in conflict management courses
Respondents said:
I think there should be relationship courses before marriage. There are many stresses with being married, and introducing children makes it get even more complicated.
I think people need to be encouraged to have that conversation about what having a relationship means, what having children means, what making a commitment means, and what expectations there are around managing money.
I think a lot of the problems that people experience are probably because they are not as open with each other as they should be and they maybe don't know how to communicate what they are feeling … that [attending the marriage preparation course] was a big step in our relationship.
Families Minister Edward Timpson said:
Strong and stable societies all over the world are built on the foundations of good parenting and solid partnerships. It's not easy, especially when people are living with difficult circumstances but the economic, social and emotional cost of family breakdown makes a very clear case for investment in relationship support.
Relationship breakdown has an immediate impact on the health and wellbeing of the whole family, and longer term we know that children who experience their parents' relationship breakdown are more likely to experience the same outcome in their own adult relationships.
I'd like to thank the voluntary and community sector for the incredibly valuable work they do to help support happy family lives in this country.
Notes to editors
This follows the prime minister's announcement in December 2010. The government has dedicated £30million over the spending review period 2011 to 2015 for relationship support. This helps meet the coalition commitment to 'put funding for relationship support on a stable, long-term footing, and make sure that couples are given greater encouragement to use existing relationship support'.

The organisations awarded national contracts are: Marriage Care; One Plus One; Tavistock Centre Couple Relationships; Relate; and Contact a Family. These organisations will be working in partnership with other voluntary sector organisations to deliver the services, including the Asian Family Counselling Service; PACE; Grandparents Association; Family Action; Fatherhood Institute; 4Children; and Working Families.

Research quoted is from: Walker et al Relationships Matter: Understanding the needs of adults (particularly parents) regarding relationship support.

The minister is visiting a CANparent class about bringing up children on Monday 26 November in the High Peak, Derbyshire.
DfE enquiries
Central newsdesk - for journalists 020 7783 8300
General enquiries - for members of the public 0370 000 2288
Published 26 November 2012