News story
Employers value part-time study
Around a third of employers said that their views of part time study have improved based on the experience of their employees. The Futuretrack…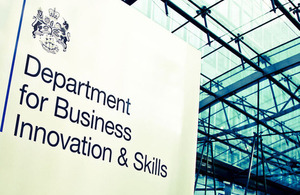 Around a third of employers said that their views of part time study have improved based on the experience of their employees.
The Futuretrack: Part-time Students from an Employer Perspective research showed that 40 per cent of part time students reported that their employers paid all of their course fees and 8 per cent received partial fee support.
Moreover, the Government will give extra support to part-time students in higher education by bringing in changes to student finance arrangements from 2012/13. These will ensure that eligible part time students studying over 25 per cent intensity will be able to apply for a student loan to cover the cost of tuition.
David Willetts Minister for Universities said:
"This research shows that employers particularly value graduates who already have experience of the workplace and can apply practically what they have learned. Studying part time is a good option for many students enabling learning to be fitted around work and other commitments.
"Making part time study more accessible is one of the key goals of the Government's higher education reforms. Part time students will be able to get help to cover tuition costs and will only make graduate contributions once they are in well paid work."
Jane Artess, Director of Research at HECSU said:
"Our study has found evidence that part-time higher education leads to more demanding tasks and responsibilities and to higher paid jobs for those concerned. So many employers support staff in studying part-time because of its clear benefits, believing that their organisations benefit from staff becoming more knowledgeable and better equipped with job related skills. Some employers also note positive contributions to productivity and efficiency, increased staff retention and improved staff attitudes and career progression."
Notes to editors:
---
The survey results are available on the BIS Website: http://www.bis.gov.uk/policies/higher-education/research-analysis

The research is a longitudinal study following part-time students and their employers, which aims to provide better information on the motivations and experiences of people who chose to study part-time and their employers, and also to identify the impact of their study. The study is restricted to those studying for a first degree, Foundation Degree or HND/C. It has been jointly funded by the Department for Business, Innovation and Skills and the Higher Education Careers Service Unit (HECSU), with the Department's funding directed towards the employer element of the study.

The Higher Education Careers Services Unit (HECSU) is a registered charity that supports the work of higher education careers services in the UK and Republic of Ireland and funds major research projects that benefit the higher education careers sector. Graduate Prospects is the commercial subsidiary of HECSU and has been bringing students, graduates and recruiters together for over 30 years.**

For HECSU media enquiries please contact Clare Schofield on 0161 277 5285 or c.schofield@prospects.ac.uk. For BIS media enquiries please contact lucy.bell@bis.gsi.gov.uk.
---
BIS' online newsroom contains the latest press notices, speeches, as well as video and images for download. It also features an up to date list of BIS press office contacts. See [http://www.bis.gov.uk/newsroom](http://www.bis.gov.uk/newsroom) for more information.
Notes to Editors
Contact Information
Name BIS Press Office Job Title
Division COI Phone
Fax
Mobile
Email NDS.BIS@coi.gsi.gov.uk
Name Lucy Bell Job Title
Division Department for Business, Innovation and Skills Phone 020 7215 5361 Fax
Mobile
Email Lucy.Bell@bis.gsi.gov.uk
Published 25 January 2011