Press release
Employers must maximise UK engineering talent, says UK Commission for Employment and Skills
Engineering employers in the UK must do more to attract graduates into engineering careers, the UK Commission for Employment and Skills (UKCES) claims.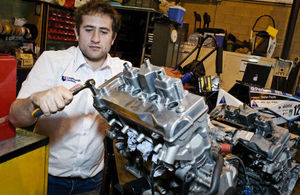 Responding to new research published today by the Institution of Engineering and Technology (IET), the UK Commission for Employment and Skills (UKCES) is calling on employers help maximise UK talent and ensure the nation remains a global innovator in technology and engineering.
Findings from the IET report, 'Engineering and Technology: Skills & Demand in Industry' show that demand for engineers remains high but over half of employers are having difficulty finding new recruits, while findings from the UKCES report, The supply of and demand for high-level STEM skills, show that nearly two thirds of graduates in science, technology engineering and mathematics (STEM) subjects move into careers unrelated to their studies.
Alex Curling, assistant director at UKCES said:
These findings are worrying and highlight the need for employers to ensure they are working hand in hand with education and training providers to offer attractive jobs to skilled, talented young people. With such exponential growth in technology it is all too easy for vital technical skills to atrophy if they move away from the field, leaving people struggling to get back in to rapidly evolving industries. Finding ways of helping people who have become 'locked out' of the industry re-enter it could help address the skills shortages described in today's report.
Published 31 July 2014