Emir of Qatar rounds off 3-day State Visit
His Highness The Emir of the State of Qatar, Sheikh Hamad bin Khalifa Al-Thani and his consort Her Highness Sheikha Mozah bint Nasser Al-Missned left London this afternoon, ending a 3-day State Visit to the UK.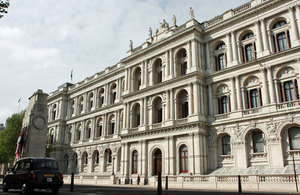 The Emir of Qatar, Sheikh Hamad bin Khalifa Al-Thani waves goodbye to Queen Elizabeth II and Prince Philip, the Duke of Edinburgh at Windsor Castle. Getty images.
It was the end of a busy schedule which started on Tuesday with a welcome at Windsor Castle from The Queen and The Duke of Edinburgh. This was followed by talks at 10 Downing Street with Prime Minister David Cameron and at Buckingham Palace with Deputy Prime Minister Nick Clegg.
The Emir also met with The Prince of Wales and The Duchess of Cornwall at Clarence House on Wednesday 27 October, as well as visiting the Olympic Park in East London accompanied by Chairman of the London Organising Committee for the Olympic Games Lord Coe, Minister for Sport and the Olympics Hugh Robertson and Mayor of London, Boris Johnson.
In the afternoon he met with The Duke of York and British Industry Leaders at Buckingham Palace, where a Memorandum of Understanding (MoU) was signed between the UK and Qatar that will help to strengthen the existing strong and historic trade relations between the two countries.
UK Minister for Business and Enterprise Mark Prisk who signed the Memorandum with Qatari Minister of Business and Trade H.E. Sheikh Jassem Bin Abdulaziz Bin Jassem Al-Thani, said:
"This new understanding between the UK and Qatar will mean stronger, deeper relations between our two countries. Our bilateral trade has more than doubled in recent years and our aim is to drive forward this momentum and elevate our trading partnership to the next level.
"We are focusing relentlessly on promoting the UK as a place to invest and today's agreement signals a significant step forward."
Bilateral trade has increased by 160 per cent to £2.2 billion in the last five years and the government sees real opportunity for further collaboration in the fields of energy, education, banking and financial services, construction, defence, sports and culture.
The Emir's final engagement was a visit to the Royal Military Academy at Sandhurst, where the Emir undertook officer training as a younger man. Her Highness Sheikha Mozah visited the British Library with Culture Minister Ed Vaizey, for the signing of an MoU on a joint Digital Heritage Project. Sheikha Mozah then went on to the Royal Society for a health and research roundtable meeting, which Anne Milton Parliamentary Under-Secretary of State for Public Health also attended.
This was followed by the signing of the UCL-Qatar agreement witnessed by Sheikha Mozah and Minister for Universities and Science David Willetts. The agreement will establish a University College London campus in Qatar thus allowing more young Qataris access to British academic excellence.
Published 28 October 2010