Emergency aid to Burma for Cyclone Giri
The UK Government will give emergency food, water, sanitation and healthcare to more than a hundred thousand people in Burma as the full scale of destruction caused by Cyclone Giri has become clear.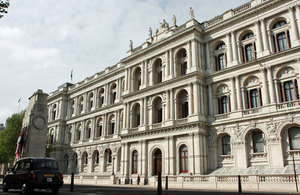 Evidence collected by independent agencies operating in Burma has now shown that more than 260,000 people have been severely affected and are in urgent need of emergency aid.
Many have lost their homes and means of earning a living in this 'hidden' disaster in the Western district of Rakhine State. Many have also lost their access to clean water and sanitation.
In response the UK Government will provide immediate humanitarian assistance to trusted and independent humanitarian agencies operating in Burma. No British aid will be given to the Government of Burma.
This will provide the following:
Food: Supply enough food for at least 28,000 people for the next three months through funding to the World Food Programme. With crops and food stocks destroyed, many people face extreme hunger.
Clean water and health: supply clean water, sanitation and healthcare equipment and services for about 80,000 people, including emergency health consultations with qualified medical professionals, long lasting anti-malarial bednets and emergency sanitation kits. This will be organised by our international partners who are already operating in the area with trusted local agencies, through grants worth up to £2.25 million.
Secretary of State for International Development Andrew Mitchell said:
"This disaster was in danger of being forgotten, ignored and unseen by the international community.
"Thousands of families have lost their homes, crops have been flooded, houses destroyed and villages wiped out. Many families are completely dependent on aid for their survival.
"Without urgent help now, the situation will continue to deteriorate, as a lack of food and disease spreads amongst the survivors.
"British aid will give much needed food, clean water and healthcare to the survivors. We call on other donor countries to join in this relief operation."
More than 100,000 people have lost their homes and many more have lost their crops, livestock and access to clean water and sanitation. Vital sources of food have been destroyed, including 700 fishing boats, 17,500 acres of agricultural land and 43,000 acres of shrimp farms. Agencies report that more than 200,000 people will need emergency food aid for at least the next three months.
Almost nine out of ten villages in affected townships have no water resource or are relying on untreated water sources, putting them at severe risk of disease. With the dry season just beginning, these are likely to quickly dry up.
The Cyclone is reported to have washed away local medical facilities causing the local health care system to collapse.
The UK will continue to monitor the situation through DFID's office in Burma and our international partners on the ground as the situation develops.
See more: DFID website
Search the news archive
Published 29 November 2010