World news story
Embassy support to a study on the economic climate in northern Kosovo
Ambassador Cliff sees investment in the private sector as essential for improving living standards, a key component for improving stability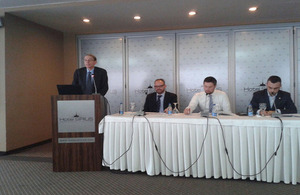 The British Embassy supported a project fostering economic development of northern Kosovo's Small to Medium size Enterprises (SMEs) through the creation of favourable conditions for accessing the wider Kosovo market, contributing to the process of stabilization and normalization of relations between communities from the north and other regions of the Kosovo.
The study presented by Aktiv at a launch event in Pristina on 27 November gave interesting insight into the economic situation of SMEs in north Kosovo as well as into the economic structure of the four municipalities. The presentation of the study was followed by a presentation of the accompanying practical handbook designed to help businesses from the north register into the Kosovo system. The handbook collated all the necessary legal information on how a business can be registered within Kosovo legal system. It describes legal procedures in different economic areas making the process as friendly as possible.
The study, supported in conjunction with the German International Development Cooperation and carried out by NGO Aktiv, provides a basis for helping policy makers, donors, international organisations, the business community and civil society organisations to understand the development potential and needs of the private sector in the north of Kosovo.
Ambassador Cliff said:
"It is no coincidence that we publish these results today, as the local elections in northern Kosovo, and throughout Kosovo reach conclusion this weekend. As the political fog lifts it is important we look ahead to what matters most to all the people of Kosovo: jobs, improved standards of living, and stability."
Ambassador Cliff concluded by saying: "I can see a future where the dependence on public sector is reduced; the north of Kosovo trades successfully and openly throughout the Balkans; and Trepca is a thriving enterprise, reliant on small to medium size enterprise to service its needs, trading globally. So often it is the private sector that leads the way, it is therefore imperative entrepreneurs in the north seize the opportunities presented by the dialogue between Belgrade and Pristina to develop their businesses, cooperate with reformers and work with government to ensure a better, open, business environment that allows the region to reach its true potential."
To download the study and the handbook please visit the www.ngoaktiv.org website.
Published 11 December 2013