World news story
Eleven organisations, including a British university, join forces to support transport reform in Lima and Callao
The "Roadmap for Sustainable Mobility and Transportation in Lima and Callao by 2025", was supported by University College London.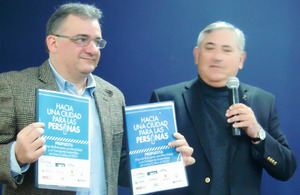 Ten Peruvian organisations and one British institution have just released the joint proposal: "Roadmap for Sustainable Mobility and Transportation in Lima and Callao by 2025" (Hoja de Ruta para una Movilidad y un Transporte Sostenibles en Lima y Callao al 2025). The organisations that participated are University College London, Fundación Transitemos, Lima Cómo Vamos, Swiss Contact, Libélula, Embarq Andino, Luz Ámbar, Universidad Nacional de Ingeniería, Pontificia Universidad Católica, Araper and Cruzada Vial.
The document brings together a common long-term vision and key policies to achieve a substantive improvement in current chaotic transport conditions. Coincidently, the Discovery Channel network has spurred in recent days public debate in Peru after a documentary special exposed worldwide the dangerous driving conditions in Lima. The British Embassy in Lima has coordinated with University College London to bring transportation specialist and researcher Nick Tyler to Peru on several occasions. Mr Tyler has held meetings with local authorities and peers to share British experience on how to improve the challenging conditions of mobility and transportation in Lima and Callao.
The joint proposal advocates that the driver for a solution should be a unified technical authority, to guide an integrated transport system in the same fashion as in cities "like Madrid, London, Paris, Santiago de Chile, Sao Paulo, Curitiba and Bogota, among others." "Its characteristics and growth stages will be carefully defined," the document reads, "thinking on the continuity and development through changes in political and economic times". One of the key policies is to prioritise polycentric urban development, avoiding unnecessary journeys within a city, and clear priority given for public transport investment and non-motorized mobility. A better city, specialists say, will only be achieved through better accessibility with less travelling and less time when travelling.
The priority objectives suggested by the roadmap are:
Prioritising public transportation and non motorised mobility.
Planning a city for the people, compact and equitable, through regeneration and urban restoration, strategic densification and mixed use of land.
Creating a technical institution for urban and mobility planning in Lima and Callao.
Reducing transport-generated pollution.
Rational use of energy and other metropolitan resources.
Development of technical abilities in planning and transportation.
You can read a summarised version of the document following this link. (Spanish only.)
Published 27 August 2013