World news story
Eleven Montenegrins will study in the UK with a Chevening scholarship
The British Ambassador welcomed at his Residence the group of young Montenegrins who were awarded a Chevening scholarship.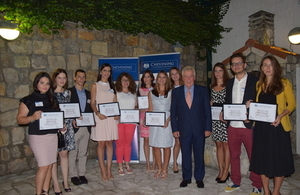 On Tuesday 13 September, British Ambassador to Montenegro Ian Whitting, gathered this year's Chevening alumni to wish them a safe trip and encouraged them to make the most of their time in the UK.
This year, 11 young Montenegrins will have the chance to study in the UK, thanks to the Chevening scholarship, which covers all expenses and enables them to choose any course of study and university in the UK. They are:
| | | | | |
| --- | --- | --- | --- | --- |
| Ms | Draga | BEČIĆ | MSc in International Management | University of Bath |
| Miss | Jovana | MARTINOVIĆ | MSc in Marketing | University of Manchester |
| Mr | Radovan | BOGOJEVIĆ | MSc in Media Management | University of Glasgow |
| Miss | Vanja | KLJAJEVIĆ | MSc in Marketing | Queen Mary, University of London |
| Miss | Darja | MILIĆ | MSc in Economics | University of Warwick |
| Miss | Arta | HOXHA | MPA in Public Administration and Management | University College London |
| Miss | Marija | SINĐIĆ | MSc in Project Management | University of Southampton |
| Mr | Balša | LUBARDA | MA in Security Studies | Aberystwyth University |
| Miss | Ana | MIJANOVIĆ | MSc in EU Politics | London School of Economics and Political Science |
| Miss | Maja | MARKOVIĆ | MPA in Public Administration | University of Birmingham |
| Miss | Milena | OSTOJIĆ | MA in European Politics | University of Portsmouth |
About Chevening Scholarships
Chevening Scholarships are the UK government's global scholarship programme, funded by the Foreign and Commonwealth Office (FCO) and partner organisations. The programme makes awards to outstanding scholars with leadership potential from around the world to study postgraduate courses at universities in the UK.
The Chevening programme was established in 1983 and has developed into a prestigious international scheme. Chevening Scholars come from more than 150 countries and territories worldwide (excluding the USA and the EU), and this year the Scholarships will support more than 1,500 individuals. There are over 46,000 Chevening alumni around the world who together comprise an influential and highly regarded global network.
The programme provides full or part funding for full-time courses at postgraduate level, normally a one-year Master's degree, in any subject and at any UK university.
The Scholarships aim to support UK foreign policy priorities by creating lasting positive relationships with future leaders, influencers and decision makers around the world.
Application period for 2017/2018 now open
Applicants from Montenegro can choose any course of study, but we particularly welcome applications in the following fields: Banking, Economics, Finance, Human rights, International relations, Law Management, Media, Political science, Public administration.
Scholars are personally selected by the British Embassy Podgorica. Online application must be completed by 12:00 GMT on 8 November 2016 on www.chevening.org/apply.
Applications sent by email or in hard copy will not be accepted.
For all information and application please visit the Chevening website: www.chevening.org/montenegro.
Published 16 September 2016