Elections postponed in Turks and Caicos Islands
On Monday 20th September Henry Bellingham announced the postponement of the elections scheduled for July 2011 in the Turks and Caicos Islands.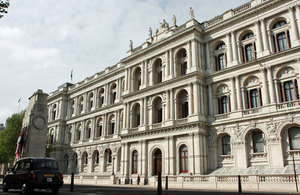 The delay will allow time for further important work to take place on public financial management and good governance reform in the Caribbean Overseas Territory and will allow time for the reforms to become fully embedded .
Speaking in a radio address whilst in TCI, the Minister for the Overseas Territories recognised the challenges that remain in TCI and spoke of the UK's determination to support the people of TCI through this difficult period.
He said: "The UK Government has considered all the Interim Government's work over the past 12 months; all the challenges that remain, not least economic stability; and, taking all of these factors into account, we have decided that the elections will not take place in July 2011.
Suspension of parts of the constitution will continue until progress is made towards embedding reforms and financial stability in TCI. We want elections to take place as soon as practicable. But I have concluded that more time is needed. This will be kept under constant review; and I will issue a statement before the end of 2010 on the remaining milestones which will have to be met before elections can take place."
The Minister emphasised that the UK Government places great importance on ensuring the Commission of Inquiry's recommendations are implemented by the Interim Government. Reforming governance systems, eradicating corruption and instilling good public financial management are all vital, he said.
The Turks and Caicos Islands are one of 14 British Overseas Territories. Parts of TCI's constitution were suspended in August 2009 following a Commission of Inquiry report into allegations of corruption by TCI ministers which pointed to a high probability of systemic corruption in the government and legislature of TCI. The Governor now has charge of matters of government subject to instruction by the Secretary of State. This was a serious constitutional step which the Government did not take lightly. These measures were essential in order to restore the principles of good governance and sound financial management.
A range of UK Government funded advisers are now in place to offer support and guidance to the Governor and to the public service.
Published 21 September 2010