Ekaterinburg hosts traditional English/Russian Legal Seminar
The British Consulate General in Ekaterinburg and the British-Russian Law Association organised 4TH annual English law.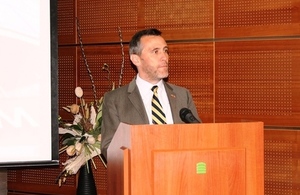 The topic of the discussion was "The Dispute Resolution Process in England and Russia. An update on current practice and practical tips", focus being made on comparison of litigation, arbitration and mediation processes.
Even where English law is used for contracts it has to operate in a Russian context. For many transactions this means using Russian law for certain parts and English law for others.
The event was aimed at developing a deeper understanding of each other's legal systems. It attracted over 70 local legal specialists- both barristers chambers employees and in-house lawyers from large and medium-sized companies involved in international transactions and disputes.
Gareth Wynn Owen, Head of Prosperity Strategy, welcomed the participants and attendees. In his opening speech, Mr. Wynn Owen said that the Seminar "has become a traditional fixture in Ekaterinburg's legal calendar" and underlined that the English Courts enjoy a unique position in the resolution of international commercial disputes.
Some of the key messages were:
The London courts are popular with foreign parties, especially from Russia and the CIS region
Of the cases heard by the Commercial Court in London, many involve at least one foreign party and often neither party is English. Many of these cases involve a multi-national team of lawyers to deal with different aspects of the case
In England, arbitration and mediation are often used as alternatives to litigation to resolve commercial disputes. Both of these alternative dispute resolution mechanisms were discussed during the course of the seminar.
4 UK law practices took part in the event:
"Cozen O'Connor LLP" represented by Andrew Tobin
"Memery Crystal LLP" represented by Nicholas Scott
"Littleton Chambers" represented by Rupert D'Cruz
"Faegre Baker Daniels LLP" represented by Robert Campbell
2 Russian speakers gave brilliant presentations along with the British delegates:
Konstantin Farberov ("Puchkov & Partner Attorneys at Law")
Stepan Guzey ("Lidings" Law Firm)
In the seminar, leading experts explained:
how the dispute resolution process in England works in practice;
what the advantages and disadvantages are of litigation and arbitration in England;
the interim measures that can be granted by the English Court and the tactical advantages of obtaining these
proposals to improve the arbitration process in Russia
Future Law Events
In his closing remarks, Mr. Rupert D'Cruz, Honorary Secretary of BRLA, expressed the readiness of the Association to hold more professional legal seminars in Russia in the upcoming years.
Contacts
For specific advice on the Financial & Legal Services Sector in Russia please contact the UKTI Russia Sector Lead:
Julia Ivanova
Tel: +7 (495) 956 7214
Email: julia.ivanova@fco.gov.uk
If you have any questions about forthcoming events in the Russian regions please contact UKTI's team in Ekaterinburg: Karina Sokolova or Yulya Alekseyeva
Tel: +7 (343) 253 5600
Email: Karina.Sokolova@fconet.fco.gov.uk /Yulya.Alekseyeva@fconet.fco.gov.uk.
Published 16 July 2014