World news story
Ekaterinburg hosts the first bilingual reading aloud team championship
The contest seeks to commemorate the World War I anniversary and shared history of Britain and Russia.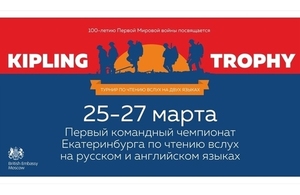 The British Embassy in Moscow in collaboration with Inter-regional Reading Federation is inviting the school students of Ekaterinburg to take part in the KIPLING TROPHY Championship, dedicated to the World War I centenary. The first team championship for English-learning school students (14-17 years old) will take place on the 25-27 March 2016.
The event will call attention to the works of Rudyard Kipling – a classic of British literature, widely known and admired by the people of all ages around the world. Although Kipling's literary heritage will be the dominant theme of the contest, the participants will also have a chance to read the works of other British and Russian authors. The participants will form teams of 5 and perform in front of the public. Without preparation, they will read aloud selected pieces from British and Russian poetry and prose both in English and Russian languages.
The Championship is taking place during the commemoration of the centenary of the World War I, which is taking place from 2014 till 2018. In remembrance of those tragic years, the participants will read the works of prominent writers of the World War I period, fragments from letters of the soldiers and some contemporary literature pieces. The purpose of this event is to commemorate the shared history of the United Kingdom and Russia during the World War I, to highlight rich literary tradition of both countries and to celebrate the best reading aloud performers of Ekaterinburg. To register – please send you application to red.mara@mail.ru