World news story
EITI Implementation on Local Level in Atyrau, Kazakhstan
This was published under the 2010 to 2015 Conservative and Liberal Democrat coalition government
Extractive Industries Transparency Initiative: effective interaction at the local level" Conference in Atyrau, Kazakhstan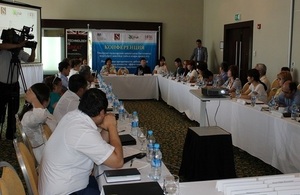 The Atyrau Public Foundation "Independent Generation of Kazakhstan" held "Extractive Industries Transparency Initiative: effective interaction at the local level" Conference in the frameworks of the EITI project. The project is supported by the British Embassy in Kazakhstan and the Soros Foundation - Kazakhstan.
The Republic of Kazakhstan joined EITI in 2005. The EITI Standard implies full disclosure of taxes and other payments made by oil, gas and mining companies. At the present time Kazakhstan was accepted as EITI Compliant country.
Kazakhstan has also a comprehensive experience in Extractive Industries Transparency area where the National Stakeholders Council was established. Using the council's model, the regional public councils on social investment projects of the extracting industries could be established to discuss regional social development, construction of the health care, educational, cultural and other facilities.
The main objectives of such multilateral public councils could be the following:
sustainable development of the region
effective implementation of the region development programs
public discussions of the social projects' planning and drafting
public discussions of alternative projects and most effective project selection
keeping aware the population on extractive companies social responsibility projects and others.
In her speech at the Conference Leilya Shamel, Economics and Energy Officer of the British Embassy in Kazakhstan said:
The British Embassy always supported the Kazakhstan's aspiration to join EITI both through the diplomatic lobbying and through the Embassy projects. The Embassy has been sponsoring EITI projects since 2008 through direct grants or through joint grants with other donors.

As you know EITI originally started in the UK in 2002, when the British Government and oil companies operating in countries, rich with natural resources, faced corruption. EITI founded the transparency and accountability principles not only for the states, but also for business and society. Last June the British Prime Minister David Cameron announced the UK's intention to pass EITI Validation together with France.

Regarding the project, implemented by Independent Generation of Kazakhstan NGO, we hope for positive results that lead to the creation of public councils in regions. We are also starting one more project on public awareness increase with the use of the media. We hope very much, that our projects will bring their contributions to the transparent standards and accountability development, as well as lead to the increase of activity among civil society.
The representatives of the local authorities, the National Stakeholders Council, international organisations and the EITI experts took part in the Conference. During the discussion they worked out the suggestions and recommendations how to move forward the EITI initiatives of the public multilateral councils on social investment projects of the extractive industries.
You can find other images of the Conference on: Flickr