Eid Mubarak from the Foreign Secretary
The Foreign Secretary William Hague sent Eid-Ul-Fitr greetings to Muslim communities during a special video message.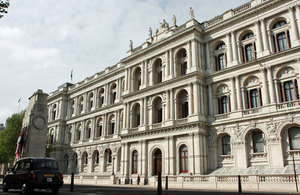 Eid Mubarak from the Foreign Secretary
In the video message, the Foreign Secretary said:
'I'm delighted to send my very best wishes to you and your families in Britain and around the world as you celebrate Eid ul Fitr and the end of the holy month of Ramadan.
At this time of celebration but also of remembrance we, of course, must have first in our minds the so many people in Pakistan and India whose homes and livelihoods have been stricken by the terrible floods who, of course, we're trying to help in every way that we can.
And so I say to Muslims all over the world that I hope you have a happy, peaceful and prosperous Eid.
Eid Mubarak.'
Published 9 September 2010