Eid message from Faith Minister Baroness Warsi
Senior Foreign Office Minister and Minister for Faith and Communities, Baroness Warsi, has sent her best wishes to those celebrating Eid ul …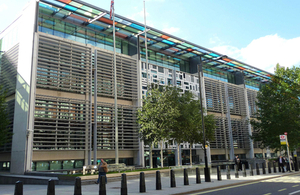 Senior Foreign Office Minister and Minister for Faith and Communities, Baroness Warsi, has sent her best wishes to those celebrating Eid ul Adha this week.
She said:
I want to send my best wishes to Muslims in Britain and across the world who are celebrating the conclusion of the Hajj pilgrimage and the holy festival of Eid ul Adha.

Eid gives us a special opportunity to reflect on the links between our faiths, since Islam, Christianity and Judaism share a founding father, Abraham, whose selfless sacrifice we mark during this festival.

It is also an occasion for us to give to others and consider those less fortunate than ourselves. Foremost on my mind this Eid will be those suffering in Syria; the people across the world who are persecuted for following their faith; and brave, young Malala Yousafzai, Pakistan's inspirational campaigner.

Eid is a time for peace and happiness and I look forward to celebrating it both at home with my family and in Downing Street.

Eid Mubarak.
Images
Published 26 October 2012