Eid Message by Chargé d'Affaires, British Embassy Riyadh
Richard Wildash, Chargé d'Affaires, British Embassy Riyadh sends Eid greetings.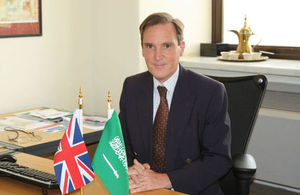 It gives me great pleasure to send my best wishes to Muslims in Saudi Arabia, in the UK and the world over who are celebrating Eid al Fitr.
During the holy month of Ramadan, millions of people around the world have dedicated themselves to prayer, reflection, charity and spending time with loved ones. I am sure that the spirit of Ramadan has brought people together and promoted a spirit of tolerance and understanding, which will be celebrated over the next few days.
Recently, over a hundred of us celebrated together at an Embassy iftar for all our staff and their families. One of the striking aspects of the evening was the wide range of nationalities, races and ages - clear visual evidence of a very diverse community. And I reflected on how much the richer we are in the Embassy because of it.
This diversity reflects the diversity of the United Kingdom itself. The coming together of Muslims and non-Muslims from many countries of Asia, Europe and beyond at our iftar has also been happening up and down the United Kingdom during Ramadan. This is something of which we are very proud in Britain and which is very important to us as we welcome tourists, students and visitors from around the world.
The spirit of Eid is one of peace and unity. We all continue to hope for an end to violence in the Middle East and for peace to break out in its place.
Eid Mubarak and kul a'am wa antum bekhair from all of us at the British Embassy in Riyadh!
Published 28 July 2014