World news story
Egyptian businesswomen – a successful Egypt needs "Women at the Centre"
Deputy Ambassador Helen Winterton hosts policy roundtable on challenges and opportunities for women entrepreneurs and women in business in Egypt.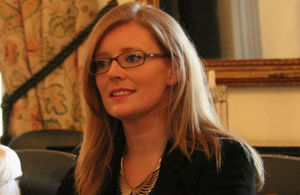 Egyptian women entrepreneurs, businesswomen, and civil society leaders have that women need to be at the centre as Egypt seeks to revitalise its economy and build a successful future.
The message came as Deputy British Ambassador Helen Winterton hosted a policy roundtable at the British Embassy on challenges for women entrepreneurs and women in business in Egypt.
Participants, who came from a range of backgrounds including business, social development, and civil society, discussed their own experiences as well as issues affecting women's participation in the Egyptian economy – such as access to capital and expertise, laws and policies, and social norms and expectations.
Deputy Ambassador Helen Winterton said:
"According to the World Bank, job market participation for women stands at just 23%. This is a waste of Egypt's precious human talent, which could boost its GDP significantly by integrating more women into the economy.
"But it is also a waste for Egyptian women themselves. Strong, dynamic, and capable, it is essential that Egyptian women are at the centre – politically, socially, economically. Unleashing their potential is key to building a successful Egypt of the future.
"Today has been a great opportunity to listen to Egyptian experts and businesswomen, understand the challenges, and hear their views on how the UK can support greater economic opportunities for women in Egypt."
Since 2010, the UK has spent over £30m on political, economic, and social projects in Egypt and expects to spend up to £50m in the next five years.
One project receiving UK support has been Al-Fanar, a charity active in Minya. With UK funding, Al-Fanar has provided the widows and female heads-of-households from 13 local villages with vocational and financial training, and offered them microloans to help start their own businesses.
UK funding is supporting the "GrOW" programme, a multi-country project supporting research and evidence on women's economic empowerment. Evidence from this programme suggests that gender equality is essential for growth though growth does not necessarily lead to gender equality. The research recommends changes in law to ensure women's equality, closing gender gaps in health and education, promoting women's political participation, and addressing social norms that limit women's roles in society.
In an effort to support governments and civil society across the region address some of these issues, the UK has launched Arab Women's Enterprise Fund, a market development programme worth £10m that will work in Egypt, Jordan, and the Occupied Palestinian Territories starting from November 2015.
Published 27 October 2015