News story
Edward Davey'??s innovation visit to Cheshire
Secretary of State Edward Davey was in Cheshire and Manchester on Thursday, 29 March as part of a regional visit to see examples of innovation…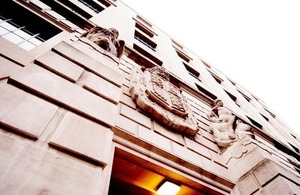 Secretary of State Edward Davey was in Cheshire and Manchester on Thursday, 29 March as part of a regional visit to see examples of innovation in the field of energy generation and efficiency.
He began his visit at EA Technology's Energy Innovation Centre in Cheshire. EA Technology is an employee-owned SME, providing end-to-end technical services and products to global power networks.
The Energy Innovation Centre was established to support new ideas and innovation in the energy sector from first concept through to market readiness.
As well as assisting with applications for funding, the Centre also provides business back up, including offices, and expert advice and guidance on both technical and commercial issues.
Following his tour of the Energy Innovation Centre the Secretary of State took part in a roundtable discussion with Distribution Network Operators. Among the topics discussed were regulatory environment, the challenges facing the UK energy industry, as well the role of the sector in areas such as Green Deal, training to ensure the country develops the right workforce, and customer relationship.
The next stage of his visit took him to Old Trafford, the home of Manchester United. Despite being one of the largest stadiums in Europe, Old Trafford topped the CRC performance league table with a number one position and a 100% score.
He was given a tour of the efficiency measures that helped achieve this success, including intelligent ventilation and air condition systems, energy metering and performance reporting for all sites and rationalisation of out of hours energy use and automated close down procedures. The Secretary of State took this opportunity to engage with the team responsible for these inspiring results on to encourage other businesses to follow this example, and how Man U can engage with their fans to increase green awareness.
From Old Trafford the Secretary of State then went to Siemens to officially launch the Greater Manchester Energy Plan. Developed by the GM Energy Group - made up of Chief Executives, academics and key figures from across the Energy and Infrastructure sectors - the Energy Plan is designed to take a strategic overview of the generation, distribution and use of energy across Greater Manchester.
In particular the plan seeks to address an ageing and vulnerable distribution infrastructure, a drop in UK generation due to the decommissioning of old nuclear, gas and fossil fuel power stations and increasing electricity demand associated with uptake of digital technologies.
The Secretary of State also used this opportunity to launch DECC's Heat Strategy and Heat map, and invited delegates to check out the map on our website.
Published 1 May 2012