World news story
Education is GREAT - Visit of Anglia Ruskin University
The British Embassy Quito is pleased to announce the visit of Anglia Ruskin University, who will hold two conferences about investigation and research.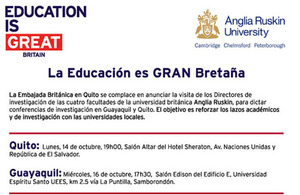 Heads of Anglia Ruskin University´s Research departments will visit Quito and Guayaquil in order to hold research conferences. The objective of the visit is to forge links with academics and local educational institutions.
Quito: Monday 14 October, 19h00, Salon Altar, Hotel Sheraton, Ave. Naciones Unidas and Republica de El Salvador.
Guayaquil: Wednesday 16 October, 17h30, Salon Edison, E building, Universidad Espíritu Santo UESS, km 2.5 via La Puntilla, Sanborondon.
NOTE: You must sign up for this event in advance. The conferences are open to people involved in the fields of:
Civil engineering, Mechanics, Environmental Studies, Computer Science, Genetics, Animal Sciences, Sustainability, Human Resources, Marketing and Innovation, International Business, Logistics, Public health, Medical research, Administration of Health Institutions, Education, Arts, International Relations, Ilustration for childrens books, Teaching english as a Foreign Language.
If you work in one of these fields and you wish to attend the conferences, please send an email to britishembassy.quito@fco.gov.uk with: your name, city, email, phone, institution and area of interest.
The conferences will be in English.
Published 2 October 2013