World news story
Education is GREAT Britain: GREAT Universities Fair 2014
The British Embassy Santo Domingo is organising the first British university Fair in Santo Domingo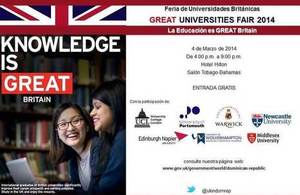 The British Embassy Santo Domingo is organising a British university fair "GREAT Universities 2014". Seven top British universities will visit the Dominican Republic the first week of March.
Information:
The fair will be held in Santo Domingo, at the Hilton Hotel (Salon Tobago-Bahamas), on Tuesday 4th March from 16:00 to 21:00.
The fair will showcase the many educational opportunities on offer in the UK for those looking for an exceptional academic experience. Another objective of the visit is to create new links and partnerships between Dominican and British universities.
To register, please send an email to UKTISantoDomingo@gmail.com
The universities taking part are:
More up to date information about GREAT Universities 2014 can be found in the Great University Fair 2014 Electronic leaflet (PDF, 1.74MB, 9 pages) or on our Twitter
Published 10 February 2014