News story
Edith Cavell to feature on £5 commemorative coin
Life of First World War nurse to be marked by Royal Mint.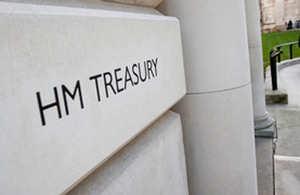 The life of First World War nurse Edith Cavell will be marked on a new commemorative £5 coin, Financial Secretary to the Treasury and Minister for Women Nicky Morgan announced today (Saturday 5 July).
The coin will be part of a commemorative set marking the outbreak of the war and will be issued by The Royal Mint in 2015. This is only the second case of an individual non-Royal woman to be featured on a commemorative coin.
Nicky Morgan, said:
I'm pleased that Edith Cavell will be commemorated on a new £5 coin – she showed true bravery by helping injured soldiers, regardless of their nationality, and it is right that she should be honoured as a British hero.

She risked her life to help Allied forces escape and in doing so paid the ultimate price.

It is important that we remember the sacrifices made by so many people in different ways during the war, and I am pleased that The Royal Mint is issuing a commemorative coin to mark the role that Edith Cavell played.
Edith Cavell was a British nurse working in German-occupied Belgium during the First World War, who saved the lives of soldiers from both sides. She was tried for treason and executed for helping Allied soldiers escape across the border to the Netherlands.
Further details on the design of the coin will be available in 2015.
The set of coins follows the wartime journey from outbreak to armistice, telling the stories of the armed forces, individuals, key battles and cultural and technological developments of that period.
In addition to commemorating the life of Edith Cavell, the programme of commemorative coins will also pay tribute to role of women during the war more generally, highlighting their contribution to the war effort across a range of aspects of national life. Full details of further commemorative coins in the set will be released at a later date.
So far the programme has seen the launch of a circulating £2 coin that marks the Outbreak of War, and a set of six £5 coins covering such topics as the Home Front, the British Expeditionary Force, recruitment propaganda and the historic role of Walter Tull.
The only other non-Royal woman to be featured on a commemorative coin is Florence Nightingale. Women have previously been represented on coins through the figure of Britannia and representations of sporting figures, but not identified as individuals.
Published 5 July 2014