Edinburgh signs up to supporting the Armed Forces
The important new agreement, signed yesterday, Monday 12 March, aims to build stronger relations between the military and civilian communities…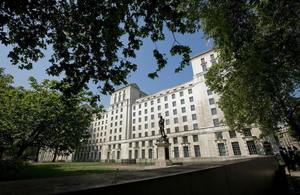 The important new agreement, signed yesterday, Monday 12 March, aims to build stronger relations between the military and civilian communities in Edinburgh. Its creation was led by the city's community planning group, the Edinburgh Partnership, together with Edinburgh Garrison.
The covenant includes a pledge that organisations will support the Armed Forces community in accessing local services, with Service personnel encouraged to do what they can to integrate military and civilian communities.
The UK Government launched the Armed Forces Covenant in May last year, including the creation of a new grant scheme to fund projects that will support these ties.
Councillor Jenny Dawe, Chair of the Edinburgh Partnership, said:
As the recent host of Armed Forces Day and many other events over the years, Edinburgh has a proud history of recognising our Army, Royal Navy and Royal Air Force personnel. So, this is an important symbolic event, underlining the strong links between city organisations and the military community in Edinburgh.

However, it is essential that we go further than this statement of intent, by demonstrating our support for each other in practical ways. That may be through bids to the Covenant fund or other initiatives that the Edinburgh Partnership will consider in the coming months.
Signing the Community Covenant on behalf of the Armed Forces in Scotland, Commander of Edinburgh Garrison, Colonel Philip Bates, said:
The Community Covenant, with the Edinburgh Partnership, Veterans Scotland and Jobcentre Plus, represents a real step forward in embedding military personnel, past and present, and their families into the communities we serve, that we are drawn from and to which we all return.

I am extremely grateful to all of our partners for the proactive and positive response they have made in developing the Covenant and the work they have done and are doing to make it a reality.

The aim is to ensure that this is a truly symbiotic relationship, not only with the military drawing support from the community, but also being able to contribute in a wide variety of ways, using the resources available to us and the skills and attributes of all of our people. The Covenant is the framework within which we will operate.

The test will be ensuring that it delivers something of practical value to all in the community and that will be brought about by the close working relationships we are developing and good communication."__
__
We need your help! We are trying out designs for a new single website for all of government and we'd love your feedback. Please visit the 'Government beta site' by clicking on the link under Related Links.
Published 13 March 2012