Edinburgh International Festival: a UK celebration of culture
In our next See Britain film in the run-up to the London 2012 Games, Edinburgh International Festival Director Jonathan Mills talks about the UK's ability to "let its hair down".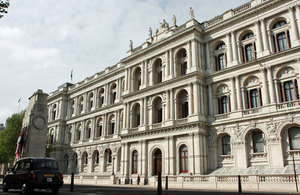 The Foreign Office is releasing a series "See Britain" short films in the two years leading to the London 2012 Olympic and Paralympic Games. These films give people from other countries the chance to tell us what they think about the UK - and viewers can find out about the lives of a range of people who live and work here. We're interested in how others see the UK and have spoken to a wide range of people with links to Britain about their experiences.
The next of our short films features Jonathan Mills, the Australian Director of the Edinburgh International Festival. He set up home in the UK four years ago and describes Britain as a diverse, welcoming, open spirited and curious place - a far cry from a country sometimes perceived to be "up itself". He believes Edinburgh in August epitomises these qualities, with a focus on celebrating culture on a significant scale. Watch the film below to find out more.
Since it first began after the Second World War, the Edinburgh Festival has become renowned as the epitome of cultural celebration, growing in popularity each year. Only the World Cup and Olympic Games sell more tickets. Jonathan attributes this success to the fact that since the Festival's creation in 1947, people in the UK have enthusiastically opened their hearts and minds to it. They were and continue to be willing to share their culture and showcase that of others and then invite everyone along to see and enjoy it too.
Jonathan believes that at the Edinburgh Festival, visitors see Britain doing what it does well - letting its hair down. The Festival showcases the country's vibrant nature; a country with creative opportunities coming out of its ears that celebrates its multicultural society.
Published 16 August 2010