News story
Edinburgh firm wins £11 million share of UK government prize to develop greener fuel technology
Whisky by-product to be turned into transport fuel at new plant in Scotland.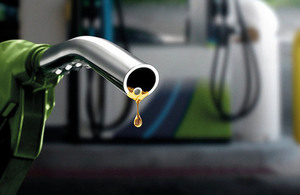 Three companies have been awarded a share of a £25 million UK government fund to help develop greener fuel technology and boost local industry, UK Transport Minister Andrew Jones announced today (7 September 2015).
In Edinburgh, the successful project at Celtic Renewables is being given £11 million to use waste products from the world-famous whisky industry which would otherwise be disposed of and turn them into biofuels, fuelling cars and lorries.
The funding will help the successful SMEs in Edinburgh, Teesside and Swindon invest in new premises and technology which will help generate over 5,000 new jobs by 2030, open up international markets and promote the renewable energy sector. The projects will boost Scotland, the Northern Powerhouse and Wiltshire and the UK economy as a whole.
Transport minister Andrew Jones said:
This is a great example of the UK government's commitment to innovative transport technology and supporting jobs and growth.

Biofuels have an important role to play in keeping Britain moving forward in a sustainable and environmentally-friendly way. This £25 million is not only a vital investment in technology that will help secure a greener future but will also help support the creation of thousands of jobs.

Advanced biofuels have the potential to save at least 60% of the greenhouse gas emissions from the equivalent fossil fuel. The 3 successful bids show how the government is investing in transport and making better, clean journeys.
Professor Martin Tangney, founder of Celtic Renewables said:
This funding from the Department for Transport is transformational for Celtic Renewables and will underpin the development of a brand new innovative industry in the UK. The construction of our demonstration facility will herald the reintroduction of ABE fermentation to the UK for the first time since the 1960s, but this time for advanced biofuel production using entirely sustainable raw materials.
Julie Hesketh-Laird, Deputy chief executive of the Scotch Whisky Association, said:
The Scotch Whisky industry is always looking at innovative ways to support Scottish industry and help the environment. Projects that make use of whisky by-products for alternative means are a great example of us working together to find a high-tech solution.

The production of bio-butanol from draff and pot ale is another example of the industry putting its by-products to a good use to promote sustainability and jobs. There are many such exciting and worthwhile initiatives across the Scotch Whisky industry.
Transport Minister Andrew Jones MP visited Celtic Renewables on Monday 7 September 2015 to see first-hand how the financial support would enable then to turn low value by-products into high-value low carbon transport fuel. The technique could transform the Scottish Whisky industry and generate up to £100 million of transport fuel a year from its by-products.
The winning schemes are:
Celtic Renewables, based in Edinburgh, has been awarded £11 million to fund a new plant to make biofuels from Scotch whisky by-products, with plans to open a further 3 commercial plants across Scotland in the future
Advanced Plasma Power, in Swindon, will receive £11 million to help develop biofuels from ordinary household waste
Nova Pangaea Technologies Ltd, based in Tees Valley, will receive £3 million to help make biofuels from forestry waste
The latest biofuels use low value waste products to produce high value fuel and will help power modes of transport that cannot be electrified in the near future such as heavy lorries or even aircraft. The UK government competition was introduced to overcome barriers to investment by offering matched funding to support the construction of pre-commercial scale demonstration plants in the UK.
Related biofuels documents
Roads media enquiries
Media enquiries 020 7944 3021
Out of hours media enquiries 020 7944 4292
Switchboard 0300 330 3000
Published 7 September 2015