News story
Ed Vaizey meets young music and dance stars of the future at Newham Music Hub
Culture Minister sees how government investment is improving access to music education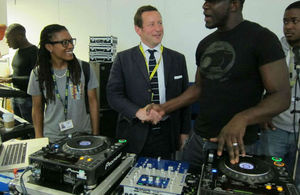 Ed Vaizey experienced first-hand how the government's investment of £170 million in music education hubs is transforming music and cultural opportunities for young people when he visited the Newham Music Hub today.
Music education hubs have been set up across the country to ensure every child has the opportunity to learn a musical instrument and that there are clear and affordable progression routes for them to continue their cultural education.
Ed Vaizey met young people studying music technology who, through the hub, have worked with professionals to broaden their skills and opportunities.
Ed Vaizey said:
It's absolutely imperative that all our children get a fully rounded cultural education with access to opportunities to learn, whether that be music, art or design. Music Education hubs are just one part of how we're improving access to music education for pupils, especially those from disadvantaged backgrounds and Newham Music Hub and the other Hubs working in the East London partnership are fantastic examples of this.
From our 'In Harmony' programme which works in some of the country's most deprived areas to transform the lives of children through community-based orchestral music, to our 'Music and Dance Scheme' which is supporting exceptionally talented musicians and dancers at specialist schools, we're helping to harness talent for the future and ensure every young person benefits from a cultural education.
Newham Music Hub taught over 4000 school children in 2011/12 and works with a number of cultural partners including the Barbican and the Guildhall School of Music and Drama to improve further education opportunities and training.
Meeting the starts of the future at Newham Music Hub
Further information
Published 19 June 2014