Ed Vaizey and Feargal Sharkey launch Nottingham rehearsal space
Young musicians and producers benefit from new facilities.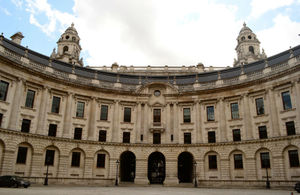 Young people in Nottingham are being given new opportunities to make music and benefit from a range of youth services at a newly equipped music rehearsal space, formally opened today by Creative Industries Minister Ed Vaizey and Chief Executive of UK Music Feargal Sharkey.
"This new rehearsal space is a great way to bring together young people from across the local community and to inspire and motivate them through music," said Mr Vaizey. "This is a great example of the Big Society in action because the young people here are making decisions about what they want in their communities and taking a lead in running their own facility."
"For such a small investment, the impact is extraordinary," said Feargal Sharkey. "The spaces may provide a first step for the next global superstar or music entrepreneur. Or they may simply instil a young person with the confidence to think, 'I can do this,' and open doors to a career in the creative industries."
Developing talent
The space will give young people the chance to develop their talents, confidence and skills through a range of music activities including instrumentation, vocal training, lyric writing, sound engineering and production, through to live performance.
"We are, tremendously proud to be selected as one of the national Music Rehearsal Space pilots and are grateful for the support given from DCMS, Nottingham City Council, and the music industry," said CRS Studio Manager, Trevor Rose. "We can now move forward positively to develop the musicality and life chances of Nottingham's young people for many years to come."
The music rehearsal space scheme was set up with a £500,000 fund from DCMS and supported by the music industry. The centre, in the St Ann's area is one of 14 rehearsal spaces that are being opened across the country. Instigated by Feargal Sharkey, the scheme has been supported by Music Industries Association (MIA) whose members have provided cut price instruments. 
Further information
Published 21 May 2012