Ecuador: Safe release of Kathryn Cox
FCO spokesperson statement on the release of Kathryn Cox, following her kidnap in Ecuador on 28 September.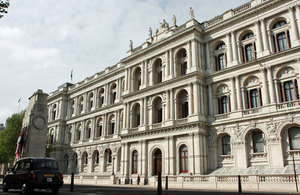 An FCO spokesperson said:
"We are very pleased to be able to confirm that Kathryn Sara Cox, who was kidnapped in a remote part of Sucumbios province, Ecuador, on Friday 28 September has been found today: 30 September. She, along with an Australian national, was found following an intensive search of the area by the police and military.
"She is now in the care of Ecuadorean and UK officials, and her health and safety is our top priority. We are giving full consular assistance to both her and her family.
"We are grateful to the Ecuadorean authorities for recovering Kathryn and her companion, and are working with them to establish the facts of what happened and who was responsible."
Published 30 September 2012