World news story
ECOSOC Humanitarian Segment: UK statement on international humanitarian law and the humanitarian principals
This UK statement was delivered during the panel discussion: Reaching people in need and promoting respect for international humanitarian law and the humanitarian principals at the ECOSOC Humanitarian Segment on 22 June 2017.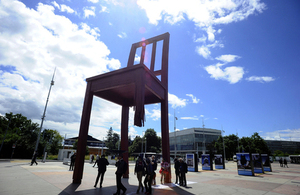 The UK welcomes this panel discussion on promoting respect for IHL and the humanitarian principles. Without respect for IHL we continue to see thousands of innocent people caught in conflict abused and killed, and decreasing security for those who bravely try to assist.
We must place more emphasis on training and awareness-raising on IHL compliance before the outbreak of hostilities. We need to see more effort on IHL dissemination to Non-State Armed Groups. As more and more non- international armed conflicts occur we must not forget that Non-State Armed Groups have obligation and responsibilities under IHL too.
For both States and Non-State Armed Groups, non-compliance should mean no impunity. The UK fully supports the work of the International Criminal Court and ad hoc criminal tribunals which, together with national criminal courts, hold to account those who do not comply with IHL.
As States here today, we can only solve these issues by talking. To this end the UK supports the work of the ICRC and the Swiss Government to promote this discussion through a forum of states. We must ensure UN Resolution 2286 on medical missions is implemented.
We have to work together to stop the indiscriminate attacks on health facilities, their staff and equipment which has seen so many people left with no access to vital care when they need it most. Hospitals are protected under IHL yet the attacks carry on. The need for provision of neutral, impartial medical assistance on the battlefield was the founding premise of the Red Cross. But today, in their line of work, ICRC staff and many other humanitarian staff, many of whom are brave nationals of the States involved, come under attack and are killed with depressing regularity. Failure to comply with IHL increases the misery of war.
All of us here today must recommit to ensuring compliance with IHL and to allowing humanitarian actors to work according to humanitarian principles. Respect for neutral, impartial humanitarian assistance is what stands between continued, prolonged and protracted crises and the humanity we all share to end the suffering of those affected.
The UK stands fully committed to taking forward this agenda.
Published 22 June 2017