Echo leads Britain's flagship Albion on Gulf exercise
Survey ship HMS Echo stepped up to the mark when she was charged with leading the nation's flagship in for a beach assault at the climax of the Royal Navy's week-long exercises with the United Arab Emirates (UAE).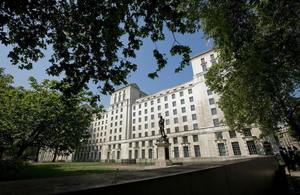 Devonport-based hydrographic vessel HMS Echo is six months into a two-year deployment east of Suez, where she is updating navigational charts in some of the world's busiest and most important shipping routes, and was sent into the South Yasat Channel, in the UAE, to see whether these waters, to the west of Abu Dhabi, were suitable for HMS Albion.
Albion, Britain's flagship and the lead vessel of the Cougar 11 deployment, was in charge of the Royal Navy's participants in Sea Khanjar (Sea Dagger), the latest exercise involving the task group which has deployed to the Mediterranean and the Middle East.
HMS Echo hosted a small group of Royal Marines - known as the pre-landing force - who carry out reconnaissance of potential landing sites.
As Sea Khanjar got down to business, Echo received an urgent request from Albion to escort her through the South Yasat Channel to land a force of Royal Marines and their Emirati counterparts, the Presidential Guard Marines, for a simulated amphibious assault.
The channel was last surveyed 20 years ago and the fleet flagship was willing to take no chances. The narrow waterway is surrounded by unsurveyed shallows and subject to ever-shifting sandbanks and coral.
With a navigable route 180 metres wide, and as shallow as 12 metres in parts, there was little room for error.
Echo set out to produce a rapid environmental assessment using her state-of-the-art multibeam echo sounder to establish the depth of water and create a 3D image of the topography, establishing a corridor of safe navigational water for HMS Albion to follow.
Within a matter of hours the survey was complete and the data transmitted to Albion, uploaded directly to her electronic navigation system.
To prove Echo had confidence in its findings, she then carefully led the 18,000-tonne assault ship through the freshly-surveyed waters, using both radio and flashing lights to provide the speed and positional directions necessary to ensure HMS Albion remained along the centreline, whilst continuing to monitor her safety with her survey suite. Lieutenant Marc Taylor, Echo's navigator, said:
It is not a common occurrence for a survey ship navigator to lead the fleet's flagship through confined and relatively unsurveyed waters.
The mind is somewhat focused when the shoals are real and not for exercise, and it was certainly a highlight of Sea Khanjar to provide such a service.
It was a service much appreciated by Albion's bridge team, among them second navigator Lieutenant Simon Shaw:
In years gone by such a task would have involved reams of paper charts and would have taken days. The fact that HMS Echo was able to survey the channel, plot a course and send us the data electronically within hours of receiving our request was fantastic.
This transit also provided an excellent training opportunity in ship handling for some of the young officers onboard.
Back aboard Echo, Executive Officer Lieutenant Commander Trefor Fox was delighted at his ship's chance to join in a major international exercise:
The way the ship's company responded to the request for survey data and led the fleet flagship through the South Yasat Channel is something I am particularly proud of.
It is a testament to Echo and the ship's company that we have shown the flexibility to switch from our core role of painstaking and precise hydrographic surveying to supporting the pre-landing force, conducting a rapid environmental assessment, survey operations, and undertaking escort duties all concurrently. In doing so, we have demonstrated the versatility of this extremely potent and capable ship.
Understanding and exploiting the environment has always been key to any maritime operation. This is particularly important in amphibious operations, where ships and troops operate in confined and shallow waters, sometimes with little or no previous knowledge of the environment.
Published 19 July 2011